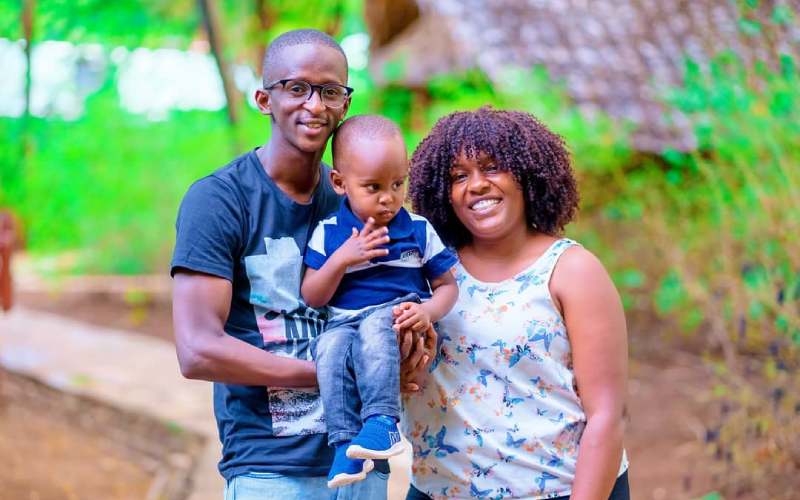 For a while now rumors have had it that renowned Kenyan comedian Timothy Kimani aka Njugush and his wife, Celestine Ndinda better known as Wakavinye might be expecting their second child soon. Addressing the claims during her weekly Cele's reflection posted on their YouTube channel, Wakavinye proved to netizens that she was not expectant by showing off an already opened pack of sanitary towels.
"As you can see I have opened and used this one just the other day so I am not pregnant. No sister or brother is coming any time soon," she said. This is however not the first time social media in-laws have mistaken Wakavinye to be pregnant. A few months ago the couple sent social media into a frenzy after they posted a picture all cuddled up with Njugush's hand on his wife's stomach.
Netizens flooded their comments section with congratulatory messages before Wakavinye explained that she was not pregnant, stating that they were simply posing for a picture. In a separate instance, Njugush posted an adorable picture of Wakavinye heavily pregnant with their son Tugi and again netizens mistook the photo for a recent one and wished the couple a safe delivery for their 'second' child.
"The photos are for my first pregnancy," she responded.
Also read: The rise of Njugush
Baby Tugi
In their YouTube series dubbed Cele's pregnancy, the couple opened up on their previous experience saying they were broke when they had their first child.
 "I had given myself one year before getting my first child. We were not working and had just started doing online comedy and it had not picked. So we got married in 2016 December and in January we were just trying various things to get money. In June God opened a way for us and we got our first deal with Bountiful Safaris.
"We went to Mombasa and as usual I had expected to get my periods then so I carried everything I needed like pads and such stuff. We had a really nice time in Mombasa and I was the manager. We signed a really good deal and we were more than ecstatic.
Celestine went on to explain that she was disappointed when she found out she was pregnant considering they had just been married for 4 months.
Also read: This is what I hate most about my wife — Njugush
"I had to test so I asked Njugush to take me to a chemist to get the pregnancy kits and I'm telling you that was the longest wait. Now we were thinking, our partnership with Bountiful is just beginning and like all of you know we enjoyed it more than we even enjoyed our honeymoon and now we are pregnant. When I found out guys I cried so much, I cried the whole night."
Joining his wife in the discussion Njugush explained that after finding out they were pregnant they began praying to God for a miracle and He did. "I am very grateful for the hardship we went through because it helped us in so many ways. It transformed out spiritual lives which I feel was a building block to who we are now," he said.