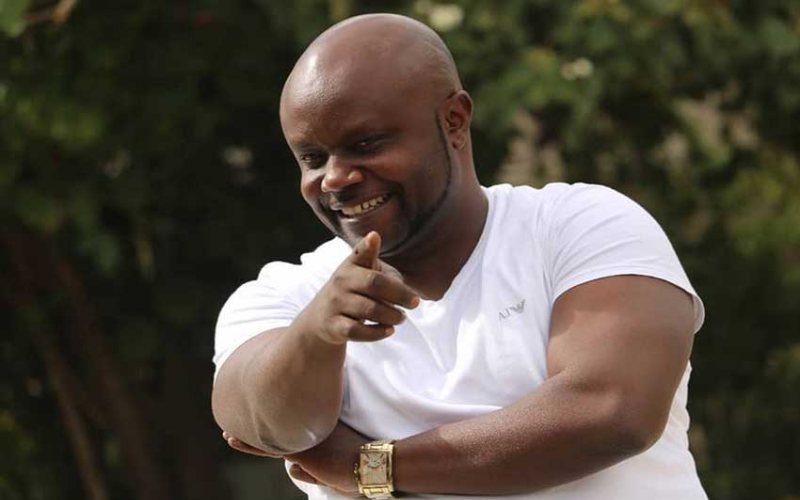 All crispy in a long white top and pants with matching black and white shoes, a composed Jean-Pierre Nimbona aka Kidum gestures with a warm friendly touch. His six member-band, also strutting the white look, is chilling in anticipation. After he gives the prompt sign, meticulously, everyone goes on queue. Live music has never felt as enthralling as this experience before. Literally, it's good music to the ear.
We are at the Standard Group PLC studios on Mombasa Road where a dozen of celebrated musicians have come to rehearse ahead of the much-anticipated 47 Million Reasons campaign that kicks off tomorrow. Award winning boy-band H_Art the Band as well as the reigning Pulse Music Video Awards (PMVA) Best Female Video winner Nadia Mukami are here.
Arrow Bwoy, who just released his Niache Niende video featuring Otile Brown just joined the shindig. A number of deejays representing Standard Group entertainment brands are also in the vicinity perfecting their act for the concert aimed at uniting Kenyans through uplifting music and messaging – as they go through the Covid-19 pandemic purge. The first, in a series of shows, will air on Saturday from 10.30pm to 11.30pm on KTN Home and BTV. It will also be streaming live on Radio Maisha, Spice FM and Vybez Radio and all other entertainment social media platforms.
Kidum, the award-winning singer and Nairobi-based Burundian Ambassador of Peace, looks contented as his band exits the stage ready for the big weekend mega virtual show. After all that energetic performance, he still looks fresh and cool, his white apparel still unsullied.
"I am a fashion dictator," he jokes as we compliment his taste.
"White is a sign of purity, peace and more to that, I am very keen on cleanliness hence the reason I am dressed in white. I am an advocate for peace and I am not wrong when I state that white symbolises the same," the accomplished Afro-Zouk vocalist, guitarist and percussionist echoes as we settle for the interview.
Also read: Yes I have seven children with my wife, Kidum clarifies
Born in Bujumbura in Burundi, the 45-year-old star recalls how - at a young age – his mother nicknamed Kidum – which literally means 20-litre jug – for being a very big baby. He reminisces how he fled his native land in 1995 due to political instability. Since, he has been back to Burundi twice on an invitation by former president Pierre Buyoya to perform in peace concerts, outings that rekindle memories of the good days gone-by. He has been in Kenya since and for 25 years, Nairobi is the place the Number Moja singer calls home.
Nairobi is the one city the singer found love. With fans embracing and adoring him mostly for his live club performances, he got consumed by the warmth Kenyans offered him and decided to marry one of their own. In 2012, he married to Josephine Muruge, a fan he had fallen for two years after meeting her during one of his performances at the former Rafikiz on Lang'ata Road. At the time, Kidum already had a dozen children from previous relationship, but that did not deter their affair from blossoming.
"I have seven children and hope to get five more with my wife," convincingly, the Haturudi Nyuma (featuring Juliana) singer informs. "They were 12 disciples and that is the exact number of children I wish to have. My children are my engine and they obviously keep me going. I want them to be bigger than I am and just like every other parent, wish the best for them," charms the star who has always lived with his children away from their parents – the first born being 24.
Besides children and his family exploits, Kidum is a man with a big heart, a foremost East African performer who has graced big stages across the region entertaining millions of his followers. This is one reason why he is elated about participating in the 47 Reasons campaign – only a month after releasing his Covid-19 inspired Pandemic track. He believes his music is meant to inspire and unite and being an Ambassador of peace, he is taking this platform to give Kenyans a reason to unite and celebrate – through the campaign that also features Mugithi sensation Samido and Benga icon Ken wa Maria as well as other new age celebrities such as Wyre, Masauti and Fena Gitu, a Standard initiative supported by Tusker.
"The pandemic has hit us, mostly as artistes because there are no shows, but we have to get ways and means to survive regardless. I've witnessed curfews before for obvious reasons of course but never have I ever experienced one because of an ongoing pandemic. It's a totally new thing to me and us all, but we are hopeful for the best. We have 47 reasons", an optimistic Kidum affirms.
"I love Kenya and now that I am a Kenyan by affiliation I fully feel part and parcel of this concert. I have been working with many Kenyan artistes with my latest collaboration, Leilah with Otile Brown, being one of my favourites.
"I enjoyed working with Otile Brown. He is young and has quite the following on social media. He brings a new vibe to the music industry and I appreciate that. Music keeps changing hence the reason why we have all these new kids on the block. I look forward to work with them. Besides I have an upcoming project with Arrow Bwoy who is also part of the 47 Million Reasons campaign. I love H_Art the Band a lot. They are the best band I know," he notes.
On a lighter note, the rather open star behind mega hits Mulika Mwizi, Kimbia, Mapenzi and Hali ni Mali says he enjoys a plate of 'ugali' and chicken and is a farmer on the side back in Burundi.
"I have had some of my best performances here. I consider Koroga 2017 as my most memorable performance. The crowd is and always continues to be an energetic one and I enjoyed every bit of it. It was the year that I performed alongside Diamond Platnumz and together with the other headlining artistes. It was truly something to remember", he concludes.
Also read: Kidum celebrates wife's birthday in sweet post
The 47 Million Reasons campaign that is being executed through all Standard Group entertainment platforms – in partnership with Tusker – is a 360 degrees affair that will be aired on three TV stations, three radio stations, the Standard website, www.standardmedia.co.ke/entertainment, alongside all other related websites and official social media pages.
The first show will air tomorrow from 10.30pm to 11.30pm on KTN Home and BTV. It will also be streaming live on Radio Maisha, Spice FM and Vybez Radio and all other entertainment social media platforms.
About the 47 Million Reasons Campaign
The campaign will feature top Kenyan artistes and other public personalities. It will air every Saturday on KTN Home and BTV besides going live on Radio Maisha, Spice FM and Vybez Radio. The first concert will take place tomorrow from 10.30pm to 11.30pm. It is a venture aimed at uniting Kenyans through uplifting music and messaging. The audience will have a chance to participate via running screen text.
Related Topics