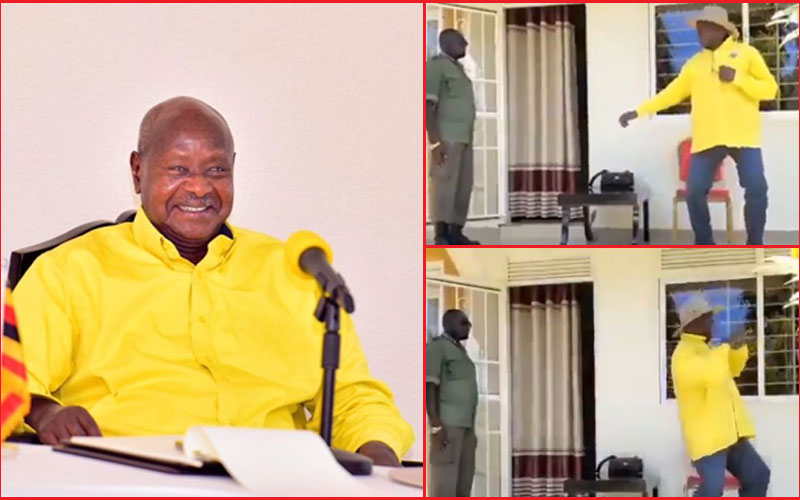 Back in 2016, Uganda President Yoweri Museveni showed off his dance moves as he was hosted by President Uhuru Kenyatta at State House, Nairobi for a banquet. In the widely shared video, Museveni was seen waltzing on the dance floor, two Caucasian beauties in hand. Close by, a smiling Uhuru was also seen moving to the live band next to a Caucasian woman.
READ ALSO: Obesity is a sign of corruption – President Yoweri Museveni
Museveni's moves might have inspired a comedian with an uncanny resemblance to him to share a video of the 'President' getting down. In the undated video, the Museveni look-alike is seen dancing away, tickling man netizens. The dancer goes to great lengths to mimic the president as he dons the 75-year-old's signature hat and a yellow shirt, signifying the official colour of Museveni's National Resistance Movement (NRM) party.
READ ALSO: Museveni wants cows issued with birth certificates to improve sales
Before breaking into dance, the man, who also has a strikingly similar build to Museveni's emerges from a doorway manned by a guard. As the Buganda song drops, he breaks into several dance moves including the pump dance as the guard looks on. At some point, the dancer beckons for the guard to clap along to the beat as he shows an array of impressive dance moves. For a moment, a section of netizens was fooled into believing that it was Museveni busting the moves:
Harry Hernandez Wahome This guy is still 30yrs old, Ugandans should wait for 30 more years.
Ray Nanah This guy nailed Museveni look and dance... I was fooled too.
Mariam Mash I thought ni Museveni till someone told me ni comedian LOL.
Debbie Rose Anne This is so hilarious, but you see he's too strong for his age.
Stephanie Njuguna Moves for days.
Do you think he could easily pass for Museveni?