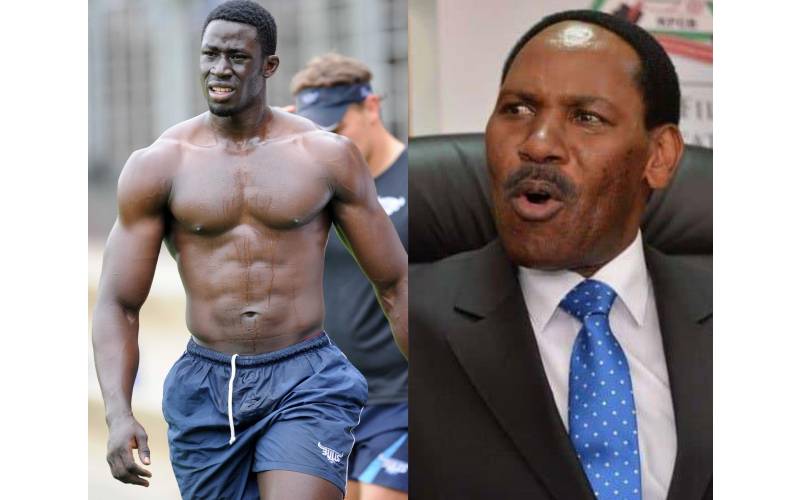 KFCB CEO Ezekiel Mutua on Friday weighed in on the troubles facing former high-flying National Football League (NFL) star Daniel Adongo. This is after a video of the athlete, who is now a shadow of his former self, surfaced online. In the clip, Adongo, with a ring on his nose, is seen smoking as he listens to music.
In a Facebook post, Mutua said he was saddened by the story of Adongo, who was once the pride of Kenya. "This story breaks my heart as if this was my own child. The reason I talk about values with passion is because I believe that the campaign can save someone like Daniel Adongo from degenerating into the abyss of despair. There's no substitute for values," said Mutua.
Further, the moral cop reminded those in sports and art to maintain high levels of self-discipline throughout their careers to ensure they remain focused on the cause. "When you succeed in sports or art or whatever sphere of life, you need faith, discipline and mentorship to stay the cause. May God give Daniel a second chance and restore him fully," added Mutua.
Adongo was the first Kenyan to play in the NFL where he had a $1,110,000 million contract with Indianapolis Colts as an outside linebacker until 2015. However, the 31- year old's star started diming later that year when a daily newspaper in Indianapolis said police were called twice to his residence over a domestic dispute ; the ex-linebacker was accused of domestic violence by a woman.
During the second call on December 10, 2015, Dawn Monks, a friend to the woman said she received a text from her reading "help" and "911." When speaking to the woman, police noted she had a large cut on her lip, marks on her lower wrists and a black left eye. Soon after, the NFL opened investigations into Adongo under 'its personal conduct policy'. However, no legal action was taken against the athlete.