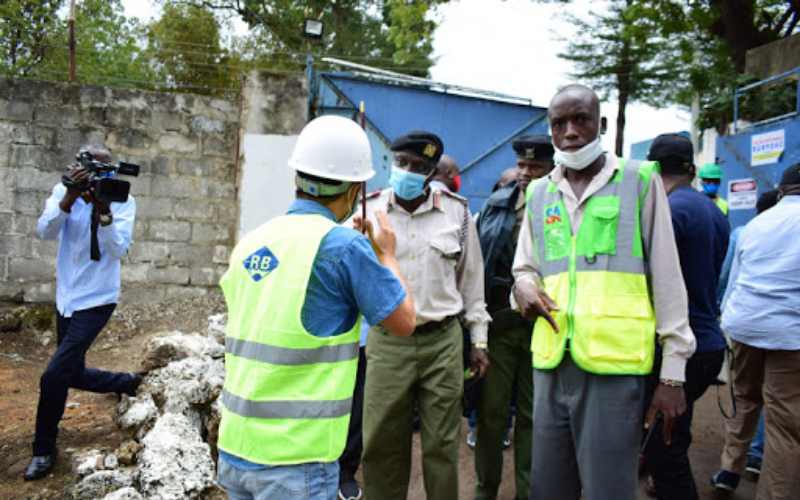 A Chinese contractor on Wednesday barred Transport CAS Wavinya Ndeti from inspecting Likoni suspension bridge project saying he had not been informed. It took the intervention of Mvita Deputy County Commissioner Charles Monari to allow Ndeti's delegation to access the site.
"I'm the Chief Engineer of the project. Why was I not informed of this visit," asked the contractor. It was at this point that he was shoved aside to pave way for inspection of the project. "No one informed us of any plans of visiting to check (sic), you understand?" he continued.
On her part, Ndeti said she was just across the road and there was no harm in inspecting the project since she is a Kenyan and an official in government. "I'm Kenyan. A minister in this government. I can walk into any project. What are they hiding?" she said.
Elsewhere, more than 70 police officers have been deployed to ensure smooth traffic flow as construction of the Sh62 billion Nairobi Expressway along Mombasa Road in Nairobi begins. 20 traffic police and 50 others from the Administration Police Service Critical Infrastructure Protection Unit have been deployed.
President Uhuru Kenyatta is scheduled to visit the site this weekend and an officer of the rank of commissioner will manage the team. Deputy Inspector General of APS Gabow Noor visited the sites where the construction team will be operating from and said the officers will enhance operations of the contractor and movement of motorists.
"We are here to help the team do their job well. Motorists too should cooperate as this is a grand project that may affect their movements although for a short while," said Gabow. Nairobi traffic police boss Joshua Omukata said they have deployed enough personnel to ease traffic flow.
"We have a senior officer managing the issue. We will make it," said Omukata. The excavators will be working day and night with police directing the removal of debris and arrival of materials. Main construction activities on the 27.1 Km project have started with the completion date set for December 2022.