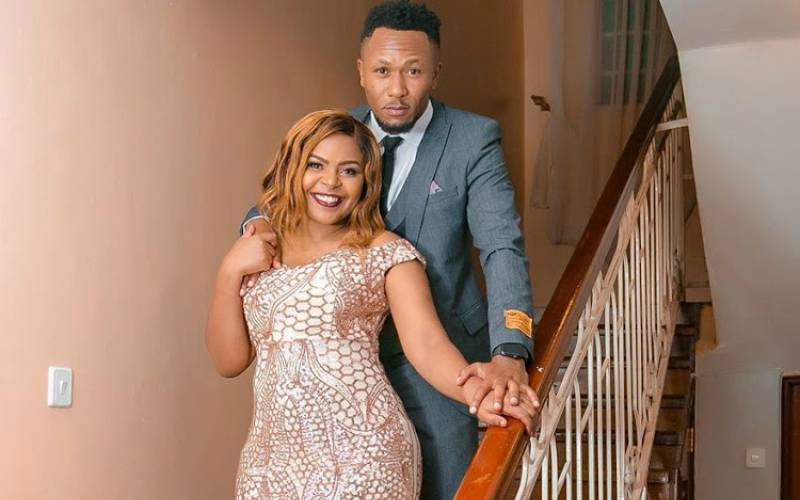 Popular celebrity couple, Sammy Muraya aka DJ Mo and his wife Linet Munyali better known as Size 8 are having a hard time reading from the same script when it comes to emulating other married couples' lifestyles. Expressing his concerns during an episode of Dine with Murayas, the CrossOver 101 show DJ accused his wife of being too petty and wanting to be so much like her other married friends. "We can only go with our speed. We cannot compare ourselves to others. You think this marriage will continue in the right path if we start picking everything other married couples are doing?
"I think we should look for people to come and help us because I feel like you have started becoming petty and this marriage cannot continue like that," he said. The couple invited over their pastor, Pastor Stanely and his wife Pastor Ann to mediate and help them distinguish between healthy and toxic traits to pick from other married couples.
Asked what the problem was, DJ Mo explained that his wife goes around picking ideas from her friends' houses only to get home and demand the same from her husband. "I'm going to go straight to the point, there's nowhere this lady hasn't gone when it comes to her friends. Everything that their spouses are doing for them, that's the pressure she brings me in the house.
"It's either, this one is being taken out or the husband comes back with chocolate and flowers or this one does this and that…. All those things she wants me to do. I'm debating whether we will go with our speed or others' speed," he said.
In her defense, Size 8 stated that they needed to constantly compare their marriage with those of others to allow growth and maturity in their relationship. "I want my marriage to work, that's why I have a notebook where I jot down who I want to look up to in terms of marriage. Even though he doesn't have a notebook he often speaks about how a few of his friends are being treated by their wives. I explained to him that the reason they are being treated that way is because they come home bearing gifts, chocolates, flowers……you name it."
Pastor Stanely asked DJ Mo to take charge of their relationship and stop reducing himself to his wife's level of pettiness. "The mistake you made was reducing yourself to her level of pettiness. Because when you respond to her from that level you'll get that she has more muscles. She will obviously beat you at being petty. Personally I have found myself in that situation a couple of times but we have to learn to live in wisdom.
"We as men God has charged us with the responsibility to lead our families. So when somebody challenges your leadership, you don't begin protecting your image. In fact you can learn from negative criticism because a leader keeps learning," he advised.
Related Topics