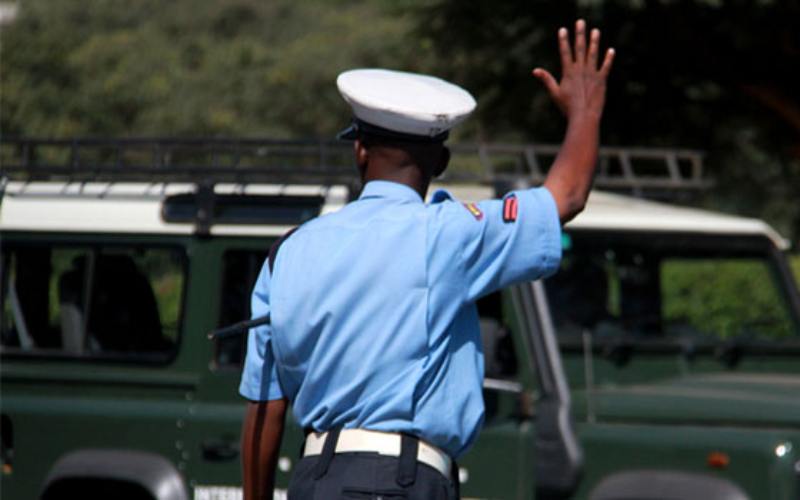 More than 70 police officers have been deployed to ensure smooth traffic flow as construction of the Sh62 billion Nairobi Expressway along Mombasa Road in Nairobi begins. 20 traffic police and 50 others from the Administration Police Service Critical Infrastructure Protection Unit have been deployed.
President Uhuru Kenyatta is scheduled to visit the site this weekend and an officer of the rank of commissioner will manage the team. Deputy Inspector General of APS Gabow Noor visited the sites where the construction team will be operating from and said the officers will enhance operations of the contractor and movement of motorists.
"We are here to help the team do their job well. Motorists too should cooperate as this is a grand project that may affect their movements although for a short while," said Gabow. Nairobi traffic police boss Joshua Omukata said they have deployed enough personnel to ease traffic flow.
"We have a senior officer managing the issue. We will make it," said Omukata. The excavators will be working day and night with police directing the removal of debris and arrival of materials. Main construction activities on the 27.1 Km project have started with the completion date set for December 2022.
The expressway begins at Mlolongo to Jomo Kenyatta International Airport, Nairobi CBD and ends at Westlands along Waiyaki Way. According to the Kenya National Highways Authority (KeNHA) this project is a public-private partnership (PPP). KeNHA says the road project is unique in Africa due to the private-public partnership arrangement with much of the materials, labour and professional expertise being sourced locally.
The route will have two traffic lanes in either direction and will feature 10 interchanges, with a considerable portion of the expressway being elevated. The interchanges will be at Mlolongo, SGR terminus, Eastern and Southern bypasses, Capital Centre, Haille Selassie, Museum Hill, The Mall - Westlands and James Gichuru Road junction.
Sections of the Expressway will feature eight, six and four lanes based on projected traffic. Its primary objective is to decongest Nairobi Metropolitan by providing faster, reliable, and less costly transport.