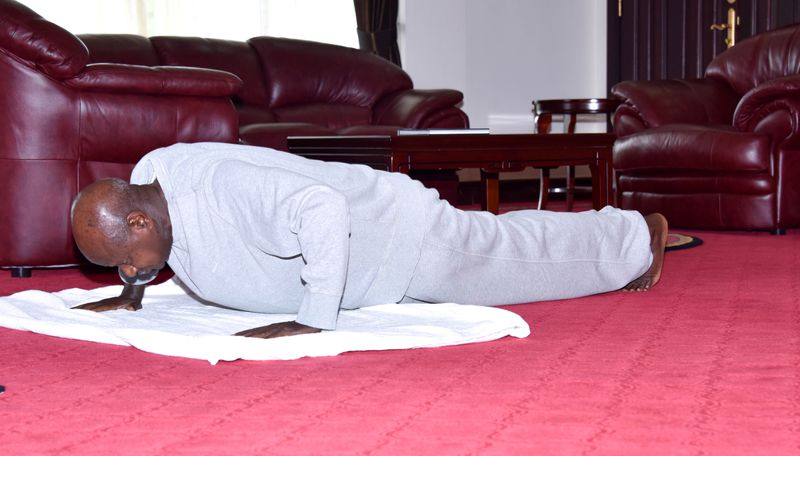 Uganda's President Yoweri Museveni is keeping fit in a way most African presidents, or just say, his age-mates, can't. In a widely circulated photo, the vocal and vibrant president is seen working out as he does press-ups at home, a routine that has now been christened #Musevenipushcoronaawaychallenge.
ALSO READ: Photo of youthful Atwoli goes viral
He is advising on how one can exercise while at home and remain healthy during the corona pandemic. He energetically makes 40 push-ups without a sweat as a baby is heard screaming on the background. "After work last night, I challenged my Bazukulu to an indoor work-out. We did four push-ups. Just like I have always advised, even at your own home, you can stay safe and remain fit and healthy," the president updated on his Instagram page.
It is a one and a half minute video that has Museveni jogging in a very spacious room in loose sporty gear. It is not the first time Museveni is going trendy with a lifestyle issue. A few years ago at the popular Lugogo Cricket Oval, the rather humorous president stunned a rally after playing his now popular rap stance 'Another Rap' which was taken to mean another presidential term for him. It was sort of a dream come true for the leader who had hinted that he would like to record a song. As a matter of fact, back in 2006, Museveni taunted former mayor John Ssebaana Kizito that he could not manage a stanza even if that were what it would take to beat him.
READ ALSO: Jeff Koinange recovers from Covid-19
"In the past presidential elections, his closest opponents have been known to have hoarse voices. His closest rival Kizza Besigye has a hoarse, natural voice. So, he could challenge him to a singing competition," said a Ugandan journalist. Most of the time when Museveni pulls such a move, his political rivals usually see it as a PR stunt. After he recorded the rap song, it was widely viewed that he wanted to win the youth vote by showing he related with the 'urban cool'.