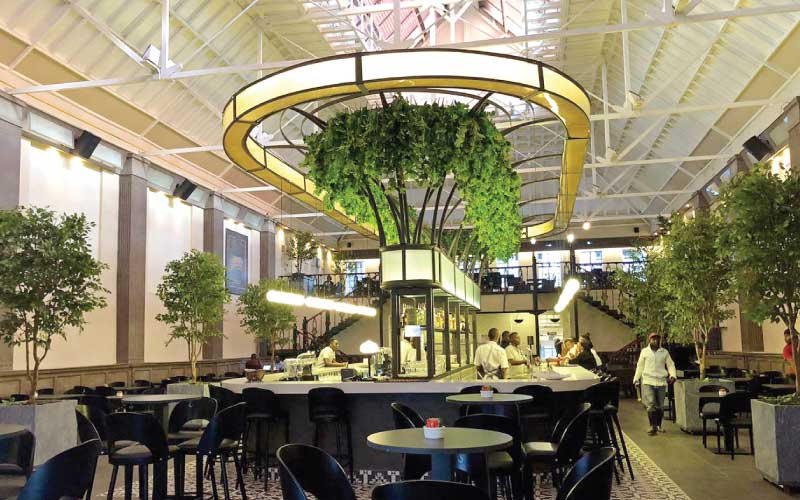 Popular chain of city restaurants Artcaffe is on the receiving end after what was thought to be a good initiative went haywire online shortly after it was launched. It all began from a single tweet from the Kenyan restaurant announcing a new competition dubbed #ARTofthecity. The contest is meant to give Kenyan creatives a platform to showcase their artwork. According to the chain of restaurants, anyone that gets to win is guaranteed of getting some prizes. But the rewards part is clearly what did not sit well with a number of netizens. In a Facebook post seen by Standard Entertainment & Lifestyle, Artcaffe states that the ultimate winner of the competition will get an exhibition space for two months. Alternatively, the winner can also get an internship with the Artcaffe design team for two months, alongside free for coffee for a year.
"Exhibition space in one of our restaurants for 2 months or an internship with the Artcaffe Design Team for 2 months. And free coffee for a year! A total of 365 coffees redeemed at 1 a day," the post read in part.
READ ALSO: #ChallengeAccepted- why women are sharing black and white photos
This seemed to have rubbed netizens the wrong way as the majority came out to make fun of the competition and sharply criticize the brand. On Facebook, a user identified as Peter Oketch applauded the initiative but pointed out that it is poorly executed as he wondered how artists would carter for their day to day bills with "exposure" as the compensation.
"So how many exposures and cups of coffee does the Marketing Manager get paid? Or you dear Social Media Manager... Do u get paid in coffee cups? The artists won't feed on exposure... It is all noble and commendable what you are trying to do... But pay the artists the equivalent of those cups of coffee…Good, no great idea... Poorly executed..." he wrote.
On Twitter, a user identified as @QueenGathoni also was grappling to understand how the management of the restaurant agreed to roll out such a campaign.
READ ALSO: Caroline Mutoko attributes high COVID-19 mortality rate in men to unbecoming behavior
"So, you are telling me, an ArtCafe team sat down, brainstormed on a dope idea on designing take away cups and agreed in unison that whoever wins it will get exposure and coffee and actually thought that was okay?" the tweet read. "Shame on you Artcaffe. No really, shame on you. One coffee a day for a year is Sh91,250. Offer that instead of a cup of coffee that no one needs. Also, you know the winner won't be able to redeem every day, that's why you offered this. Respect creatives, they deserve to be paid," @ElayneOkaya wrote.
In a rejoinder, ArtCaffe clarified that the ultimate prize is not coffee but still insisted that the campaign is aimed at giving artists an opportunity and exposure.
"In light of the reaction to our competition launch we want to clarify: The prize is not coffee and we greatly value artists and designers. In this difficult time the purpose of this competition is to give artists and designers exposure and opportunity," they tweeted.
Here are more reactions to the clarification:
Imagine leaving your work... Or chilling at home to get free ? for your art... Using your transport ????. Which you are trying to procure though art. It's ridiculous ????

— Joy Ooko (@Joy_Ooko) August 4, 2020
Why is there an emphasis on the free coffee which is redeemable. You are basically paying artists in coffee all in the name of exposure. As if 2020 isn't hard enough. Withdraw all supposed prizes because defending it doesn't make it any better.

— Francis Macharia (@kulmash) August 4, 2020
You're still trying to espresso your way out of this?

— Ninja Samurai ??? (@verbstract) August 4, 2020
Thank you for valuing the designers and creators. However, can the exposure be money especially because of the pandemic and you will surely shine with the products. Unless the designer name will be on the cups too next to your logo

— | TM® | (@Child_Of_aKing) August 4, 2020
I hope the person(s) who came up with this strategy is also paid with coffee and exposure. On the real though, just retreat, apologise then restrategise. Mistakes happen, we just need to own up and rectify.

— Julian Wanjiru Kamau (@JulianWanjiru) August 4, 2020
Kenyans are so weird. Anywhere else this opportunity would be appreciated. Exposure can be way more beneficial than money.

— Aimée Crowl (@AimeeCrowl) August 4, 2020
Related Topics