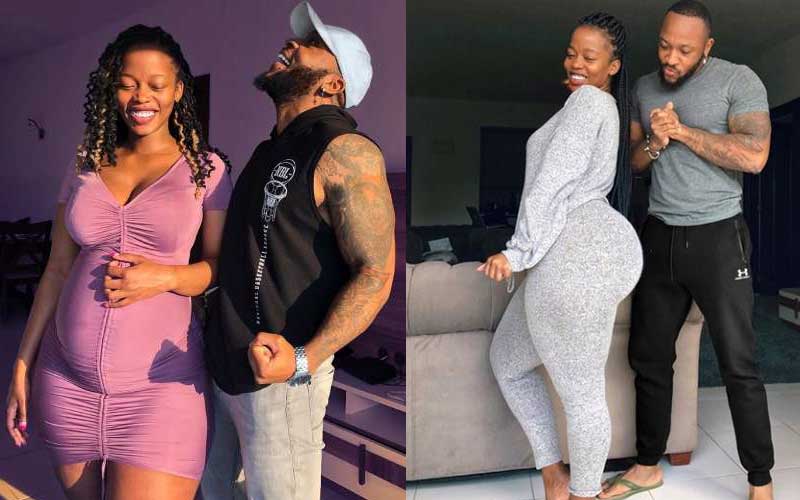 Fitness trainer Frank Kiarie better known as Frankie JustGymIt and girlfriend Corazon Kwamboka have revealed the name and gender of their unborn child. The couple who documented their gender reveal on Frankie's YouTube channel are expecting a baby boy.
"I'm almost 22 weeks and we are about to find out if it's a boy or a girl. I will Love them, if it's a girl we gonna name her Kesia and if it's a boy we are going to name him Tayari which means our love in Spanish," Kwamboka said before the later adding: "We found out about this gender five days ago…I'm going to have a boy. This is what I wanted, I was really hoping for a boy, nobody wants a daughter with this big a**."
Maureen breaks her silence
The couple's gender reveal coincided with Maureen Waititu's 'breaking my silence' video, where she addressed trolls attacking her over Frankie and Corazon's relationship.  In the video, the mother of two said that she had nothing against Corazon and therefore, did not understand where all the hate was coming from.
READ ALSO: How my socialite daughter Corazon Kwamboka broke my family - Dad
"I've seen some people attacking my mental health, my family issues… Someone went to Edgar Obare's page and started saying that this b**** was left by the dad and now she is bitter. My God guys, why do you have to be so mean? Every story I tell is not for pity party, every story I tell is to inspire. Trust me, for a minute there I thought of going offline and disappearing, never to be seen again. But I have a purpose in this world and it is to inform and inspire.
 "I'll say this, only hurt people hurt people and a lot of you people when you are attacking not just me but any person, honestly I just feel like it is a projection of exactly who you are. A person who is achieved and is where they are supposed to be would never come in a hateful manner. They would never come to attack because they know too well instead of attacking they ought to be kind to the person who is struggling and suffering," she said.
READ ALSO: It almost feels like grief - Maureen Waititu on splitting from baby daddy, Frankie
Maureen and Frankie are currently co-parenting but she admits it has not been easy.
"Co-parenting is not an easy thing, we are still trying to figure it out and there's a new child on the way, what would you do? It is not easy. I loved, I lost… I'm healing. I've healed actually. I'm not bitter by the way, 100%. I am not holding on to anyone."