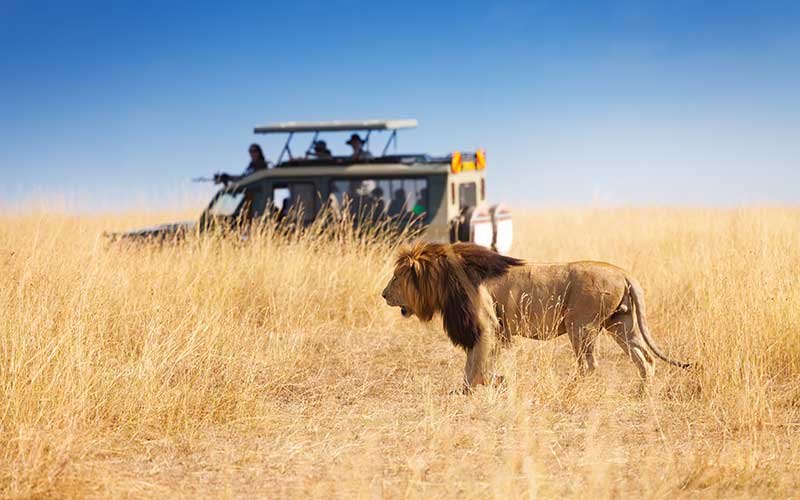 It's Saturday morning in Nairobi and a group of adventure lovers are booked into three stretch Chryslers ready for a weekend expedition. The journey takes off in Kileleshwa with outriders leading the way. In 15 minutes, they make the first stop at the posh Karen Gables residence hotel. To usher them in are stunningly dressed models who pop Champagne as a photo session is organised on the red carpet. This is actually the place they will spend the night in a 24-hour luxury outing covering several scenic sites within Nairobi and its environs.
After they are shown into their rooms, lunch, whose menu is predominantly sea-food gets served by the pool-side. After a short break, they refresh and change for the next agenda in the plan, a drive to Hardy Studs where they are treated for horse riding. They then move to Steadmak Gardens for wildlife watch and then as the evening dawns, they are back to Karen Gables for sundowner moments by the river where some buffet is also served. The evening is nothing but pure pleasure, a full pledged white party complete with pool side moments where drinks flow freely. This is the ultimate VVIP treat, a dream expedition that anyone would die for.
You will be forgiven for assuming it has coasted these guys an arm and a leg to fund this venture. What would ordinarily have been charged over Sh100,000 has now been tailored for Sh13,000 as tour companies embrace local tourism to remain afloat as COVID-19 bites. Led by the Discover, Classic, Ocean Cruising and Events Ltd group CEO Fabian Mutinda, the team has tailor-made expedition experiences for local tourists and compromised the treats that would be a reserve for high end tourists.
READ ALSO: Impact of the coronavirus outbreak on the entertainment industry
"We are simply giving clients an experience of a lifetime on charges they can afford. People are seeking adventure that is also private and unique away from the ordinary outings. You also discover that many people are seeking convenient getaways. With as little as Sh13,000, we are able to tailor make a treat that would ordinarily cost so much," says Fabian Mutinda.
"What makes the events unique is pulling together individuals with common career or business interests. They get to meet and bond and exchange ideas over fun. From middle class managers to CEO's of blue chip companies, everyone is factored. Simply put, anyone can afford these outings," he notes.
"I have been operating hospitality business in Lamu but since the government released travel advisory and gave health guidelines necessitated by the COVID-19 pandemic, business has been really low. That is why I moved to Nairobi where I am reworking my business plans," says Winnie William, a tour operator who was part of the expedition. "I am venturing into local tourism safaris in Maasai Mara and other places, experiential outings that could be the way forward when you think tourism," she notes.
READ ALSO: Saudi Arabia bans religious trips to Mecca and Medina over coronavirus fears
According to Darius Kimani, a traveler and fashion enthusiast, Kenyans are seeking fun experiences they can afford at their own convenience and privacy.
"Not everyone likes going to the clubs to party or even to the beaches. In such times when health restrictions have to be highly observed, people want to have fun in uncrowded places and expeditions like this are what is working for many," Kimani says. "It can be a family outing or even a bash for friends. The thing is when you pull together and share costs, the amounts come down from what could have been a hefty charge," he emphasises.
"This place has been busy with locals booking it for weekend functions such as birthday parties and anniversaries. We have brought the rates down as we are now working with different clientele from the ones who used to do bookings," says one of the managers at Karen Gables.