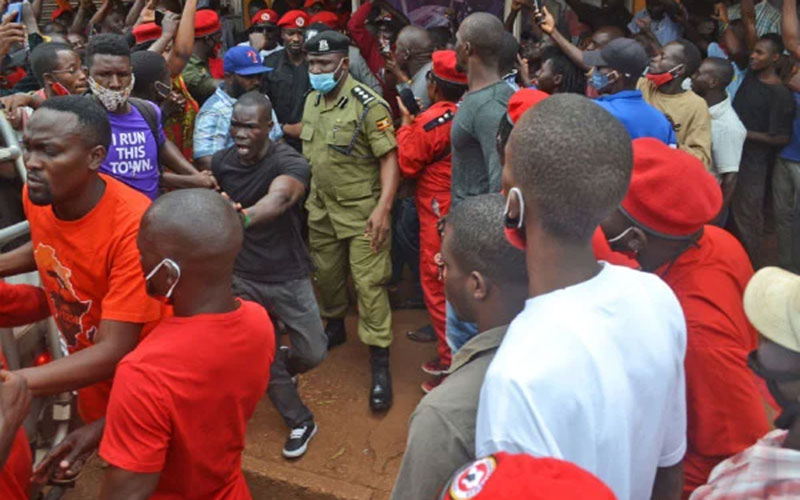 Ugandan police have been accused of trying to break into a radio station during a show with Kyadondo East MP Robert Kyagulanyi alias Bobi Wine. The incident which occurred over the weekend saw the singer-turned politician dragged from NBS FM in Jinja by police and ordered to leave.  Speaking to Daily Monitor, the radio station's manager Michael Muwanguzi said that there was a heavy police presence before Bobi Wine's arrival.  
"The police entered the newsroom and went up to the studio where we were hosting Hon Kyagulanyi but because we have security locks on the door to the studio, they could not access him," he told the publication.
Local media reported that on the day of the interview, all cars from the capital, Kampala were being searched to stop the opposition politician from reaching Jinja. However, Bobi Wine outwitted the security forces by ditching his official vehicle and spending the previous night in Jinja. After spotting the 38-year-old entering the studios, the police reportedly stormed inside before demanding for the show to be cancelled.  The manager declined, terming the move illegal.
READ ALSO: Police are looking for me everywhere! Bobi Wine evades arrest in Jinja
'Protecting Bobi'
However, the police spokesperson Fred Enanga denied the claims saying that police were deployed outside the station to ensure Bobi's safety.
"Our team did not enter the station, they were outside. You can find out from the station. Because some hooligans had surrounded the station, we only wanted to make sure Bobi Wine was brought back to Kampala without causing crowds gathering around," he said.
Muwanguzi contradicted the statement by police saying that the gathered crowd was made up of supporters of the People Power leader.  Immediately the show ended, Bobi Wine was taken to his car and escorted back to Kampala.
READ ALSO: Bobi Wine rearrested as Besigye is taken into police custody
"We have been blocked before and we know that police will always come in to block our programmes because the regime does not want us to reach out to the people. We are not going to rest, we shall go on to meet the people from all available platforms," Bobi Wine said afterwards.
Museveni critic
In recent years, Bobi Wine has emerged as a fierce critic of Yoweri Museveni who has been president since 1986. In an incident that attracted criticism from the international community, Bobi Wine was arrested and tortured by security forces in 2018.
READ ALSO: Bobi Wine shuts down criticism from 'Ugandan intellectuals'
"They beat me, punched me, and kicked me with their boots. No part of my body was spared. They hit my eyes, mouth and nose. They hit my elbows and my knees. Those guys are heartless!" he narrated afterwards.
After returning to Uganda in September 2018 from the US where he'd gone for treatment, an unbowed Bobi said: "I am resuming immediately ... I am on the mission already, I am on the fight for freedom and liberty already."
Fighting chance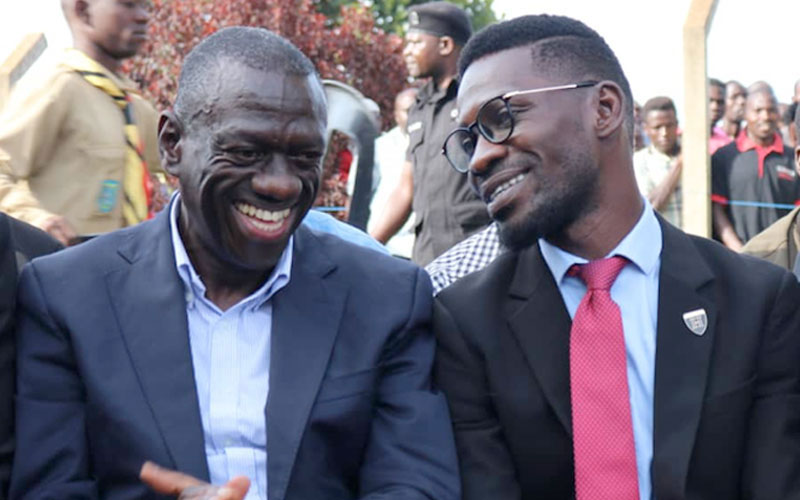 A year ago, the singer's bid to ouster Museveni got a boost after he joined forces with long-term opposition politician and Museveni's former doctor Kizza Besigye. The two resolved to put their personal and political differences aside in a bid to unseat Museveni. Bobi Wine is increasingly seen as posing a significant challenge to Museveni as nearly 80 percent of the population is below the age of 30. He has electrified young Ugandans with his message that the country needs a dynamic head of state.