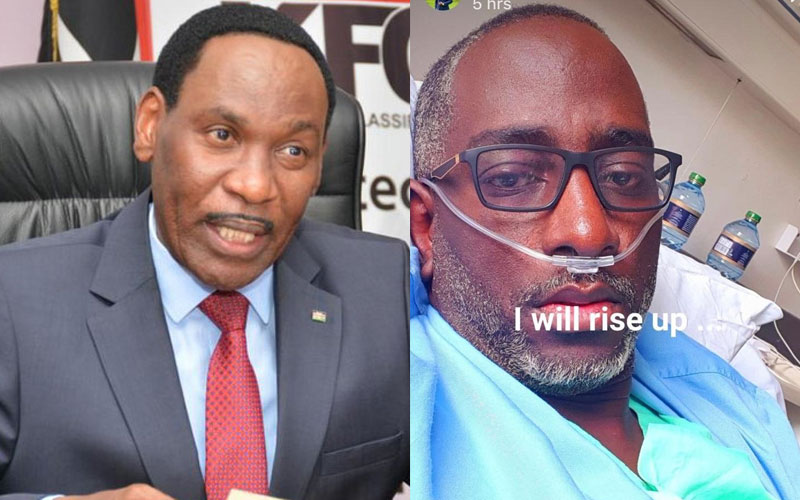 Soon after preacher and motivational speaker Robert Burale spoke out about testing positive for COVID-19, netizens had varied reactions.
For the better of the day, the father of was the subject of discussion across social media with some saying they find it hard to believe that he has the coronavirus.
It was shortly after that that netizens created a challenge to mimic his hospital video. This prompted Kenya Film Classification Board CEO Ezekiel Mutua to advise netizens to refrain from mocking and making jokes about other people's health.
READ ALSO: Robert Burale, ex-wife's conflicting tales on their divorce
"Never mock a man when he's down. Never speculate, make jokes or be cynical about people's health. We are all human and you can be fine one minute and the next all hell breaks loose. We are all so close to the edge. Life is fickle!" he tweeted.
While giving an update on his health from his hospital bed, Burale earlier cautioned Kenyans from taking the pandemic lightly.
"I beg you, don't get to a pace that you have to buy oxygen, nimesema ya kutosha, mbarikiwe. My oxygen levels are getting better. Guys please stay safe, God bless you, pray for one another," he said.
READ ALSO: How I forgave ambulance driver who ran over my brother- Robert Burale
He urged Kenyans to be mindful of senior citizens as they are vulnerable to the virus.
"Let this be a lesson to Kenyans who are just playing around and making fun, you know if you are not careful you will take this thing to your old parents and put them at risk. So guys stay safe, wacha mimi nipambane na hali yangu but one day I know I will give a testimony," added Buurale.
While breaking news of his admission at The Nairobi Hospital, Burale explained that he owes it to his family and friends to publicly declare his COVID-19 status. Upon receiving the news, he said he was scared and immediately thought about his daughter whom they had been spending time together. However, in his post, Burale confirmed that his daughter is okay.
"Well, ladies and gentlemen, still in shock, you are taken to a treated lift. It opens for you and you are briefed, "When the lift opens you will find somebody waiting for you" and I find a gentleman dressed in the full PPE... (this I only see in movies )...Kudos to Nairobi Hospital...He immediately calmed me down and walked me to the bed...As I walked through I saw grown men fighting for their lives ...I was scared ...very scared. For two days I fought for my life under the great care of the doctors and nurses at Nairobi Hospital...I saw the Hand of God...My progress is good...My vitals are responding well..." he wrote.