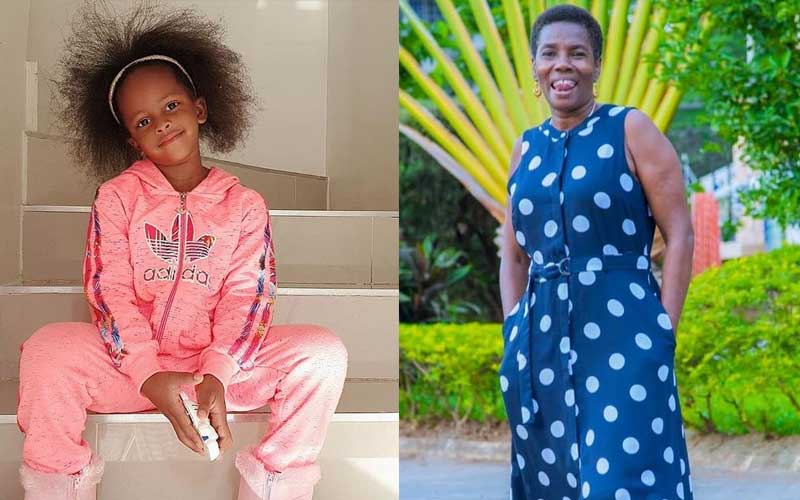 Diamond Platnumz's daughter Tiffah Dangote warmed the hearts of many netizens after a video of her singing a birthday song to grandmother Sanura Kasimu, popularly known as Mama Dangote emerged.
In the video shared on her Instagram account, the little princess is seen beside her brother happily singing to wish her grandmother a happy birthday as she turns a year older. The video presumably recorded by the little one's mother Zari Hassan was also shared by Diamond and his mother on their respective Instagram pages.
Diamond's mum later penned a message thanking Tiffah for the wonderful surprise while referring to her as her co-wife.
READ ALSO: Diamond and Zari to sell baby's photo right
"I do not know what to say or write for the love shown towards me by my co-wife. Because every year she must sing to me with so much love. Thank you Tiffah," she wrote.
Making fun of Tiffah's younger brother Prince Nilan who was also featured in the video, Mama Dangote accused him of jealousy because Tiffah had completely stolen the show.
Last year, Diamond threw his then-girlfriend Tanasha Donna and mother a larger-than-life birthday party dubbed the Great Gatsby. During the much-hyped celebrations, Diamond surprised the two women he claimed to love the most with fuel guzzlers worth millions.
"Words can't express how happy I am to celebrate the rebirth of the two women that I love the most. My lovely mom Mama Dangote and lovely baby Tanasha Donna," he wrote in 2019.
READ ALSO: Zari's angry response after being told to take Tiffah and Nillan to Tanzania
He got his mother a white Toyota Land Cruiser V8 and a Toyota Land-cruiser Prado for the mother of his lastborn son before they publicly announced their pregnancy.
"Today I would like to announce that my girlfriend Tanasha and I are expecting a child. We have been hiding it for some time but I don't think it's fair," Diamond said.
Months later the two fell apart and it was claimed that Sanura had repossessed Tanasha's car. It later emerged that Tanasha's was registered under Sanura's name. When Tanasha packed her bags and left Tanzania after the relationship went south, she revealed that she left the car behind and didn't mind what happened to it. The sentiments were echoed by Diamond's long-time close friend, Juma Lokole.
Juma was the first to reveal that the car never belonged to Tanasha.
"Why should Tanasha leave with the car? The car belongs to Mama Dangote. Both the cars," he said.