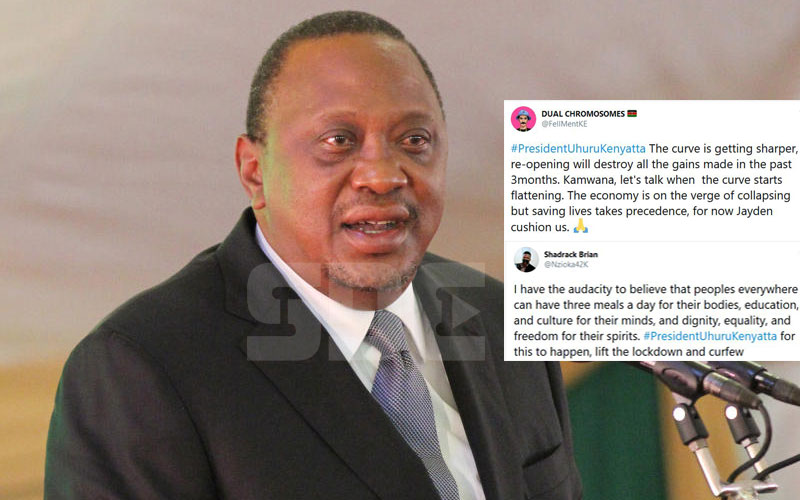 Hours to President Uhuru Kenyatta's announcement on COVID-19 measures, Kenyans have expressed their expectations on social media. On twitter, thousands aired their views on whether the president should ease lockdown measures through the hashtag #PresidentUhuruKenyatta. While some urged the President to lift COVID-19 curfews in Nairobi, Mombasa and Mandera due to the harsh economic times, others warned against the move citing the recent rise in infections.
READ ALSO: Magufuli queries Tanzania coronavirus kits after goat test
On July 5, Health Chief Administrative Secretary Rashid Aman said Kenya's infection curve is steep after 307 more people tested positive. On July 4, Kenya reported the highest number of COVID-19 infections in 24 hours with 389 confirmed cases.
"This is ample proof that the cases are rising and our curve is beginning to become steep," said Dr Aman.
Here are some of the views:
I have the audacity to believe that peoples everywhere can have three meals a day for their bodies, education, and culture for their minds, and dignity, equality, and freedom for their spirits. #PresidentUhuruKenyatta for this to happen, lift the lockdown and curfew
Raila
Jayden pic.twitter.com/uQ1OH9Ubt0 — Shadrack Brian (@Nzioka42K) July 6, 2020
President Uhuru Kenyatta Waiting for memes about tomorrow????????????????#PresidentUhuruKenyattapic.twitter.com/gy4fgX8i77 — Mwangi Main Man ???????????????????????? (@MwangiMainMan) July 5, 2020
If president Uhuru Kenyatta opens the economy, the rate of infections will rise rapidly and he will close the country not soo long. Let's wait for the curve to flatten so that we don't regret like some countries have done.#PresidentUhuruKenyatta

— Peter Kariuki ???????? (@PeterKariukiKE) July 6, 2020
#PresidentUhuruKenyatta The curve is getting sharper, re-opening will destroy all the gains made in the past 3months. Kamwana, let's talk when the curve starts flattening. The economy is on the verge of collapsing but saving lives takes precedence, for now Jayden cushion us. ???? — DUAL CHROMOSOMES ???????? (@FellMentKE) July 6, 2020
Even if President will not be reopening the Country today, he should REOPEN THE CHURCHES.

This Country needs prayers. #PresidentUhuruKenyatta#FordKenyaRisingpic.twitter.com/pZSF9GONMP — Gideon Kitheka Jnr. ???????? (@Gideon_Kitheka) July 6, 2020
This is exactly what will happen if #PresidentUhuruKenyatta would uplift cessation of movement in some areas.People would prefer to travel to their rural homes and die peacefully, to Stay in cities and die with huge debts. pic.twitter.com/d1ZXgAp7dj — Joseph Silver???????? (@silverjosephKE) July 6, 2020
Dear #PresidentUhuruKenyatta, when I look at my wallet, I really want you to open the country so that I can go back to all my hustles.But when I remember my father with high blood pressure in the village, I want you to keep the lockdown. Wewe fanya tu venye Johnie walker anasema — Bassam (@Bassam_KE) July 6, 2020
Lessons from Madagascar, WHO warning
However, a spike in coronavirus cases reported in countries which eased lockdown measures could prompt the president to extend the lockdown measures.
On July 1, a top World Health Organization official warned that some countries with rapidly spreading coronavirus outbreaks might have to reinstate lockdowns and other restrictions to curb the spread of the virus.
"We have seen countries that have been in overwhelming situations who have turned this around. It isn't too late. It isn't too late to use this comprehensive approach," head of the WHO's emerging diseases and zoonosis unit Dr Maria Van Kerkhove said.
READ ALSO: Madagascar backtracks on COVID-Organics injection trials
On July 5, Madagascar re-imposed lockdown measures after a surge in COVID-19 cases. The country's capital Antananarivo was placed under lockdown two months after the restrictions were eased.
In April, President Rajoelina launched a herbal remedy he claimed cures and prevents COVID-19 infections.  However, no scientific study has verified the efficiency of the concoction.