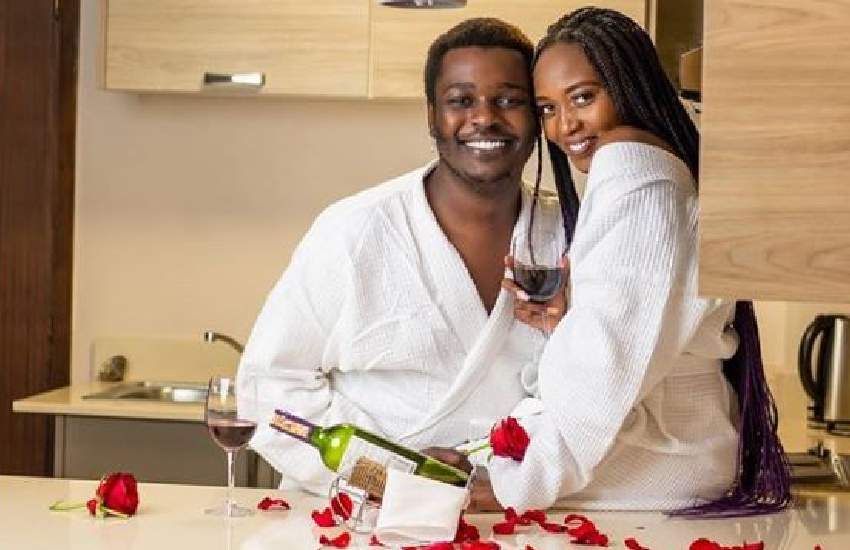 Nyce 'Shiru' Wanjeri formerly of Auntie Boss is with no doubt at a better place in June 2020, far from her highly-publicized heartache and subsequent separation from her husband Titus Wagithomo in 2018.
Taking to Instagram to celebrate her new milestone, Shiru revealed the face of a man she described as a godsend.
Known as Leting, Shiru explained that he met her at the right time and has been a blessing to her daughter Natasha Nyawira alias Tasha.
In the birthday message, Shiru wished the vocalist cum songwriter from Halisi The Band the best of life and went on to note that it is double the joy as their dates of birth fall on the same blissful month.
"On this day, this amazing man was born, and I thank God that he has grown and met me at the right time. @leting254 I pray that your year will be blessed, that God will continue leading you more, that you live long enough to see all that you desire come to be…. You are a blessing to me and Tasha… Help me wish my best friend, my secret-ee a happy birthday. We are all June babies…. Yaaaas, mtu atume cake. Happy birthday to my family," she wrote.
Read Also: Nyce Wanjeri exposes predators plaguing female thespians
Speaking on why positivity is important especially around her daughter Tasha, Shiru in 2019 disclosed how she had to wiggle herself out of a troubled childhood, weighed down by naysayers who she said had declared that she would not amount to anything.
"As a child, I grew up around a lot of negativity. I vividly remember the number of times I'd overhear some relatives claim that I would not amount to anything. They didn't care that I could hear them and that they are speaking to my spirit. "Kaschana kana macho kubwa na kamwili ni kijiti, mdomo kiherehere tu," said the Africa Magic Viewers' Choice Awards winner.
"This really messed up my self-confidence. At a young age, I vowed to bring up my young ones in an environment full of positive vibes, letting them know that they do not need people's approval to know their worth, intelligence or beauty. I went through it so that they don't have to. The cycle had to be broken, break yours too."
A point she riveted in 2019 as she narrated that she was attacked after her split from Wagithomo and had to shield her daughter from the prying public.
"I will say this, I will make it clear I'm not ready to share my life on social media because I have a daughter that I am protecting. I don't want her to grow to see the fighting via social media. If I didn't have my daughter I would have spoken up but now I have a young lady that I'm bringing up to be someone in the society.
"First of all when that happened, I wasn't for social media because when we met no one was there. When we had our differences no one knew, no one knows what happened. It was between two people. So when he took it out there I was like waa! Niligongwa na butwaa! I didn't concentrate on anything for like a full month…It was hard I will say. He took it the way he felt was good for him, he has his own reasons and I will never ask. I have my reasons but it's because of my daughter," she went on.
Read Also: Actress Nyce Wanjeri clears air on relationship with ex-husband
Expressing his disappointment in not being able to be with Tasha, Wagithomo in a birthday message that year to the then eight-year-old underscored why time is a healer.
"Natasha my lovely daughter, exactly 8 years ago you came into my life. After a sleepless night of feeling impatient, anxious and praying to God for all to turn out well. Then you came and I held your tiny self in my arms. I was the happiest young dad ever.
"Over the years we've shared a huge hug while wishing you a happy birthday, but today even if that might not happen because of the physical distance, I have you in my heart and that's where you'll always be.
"It might be hard for you to understand some things at your age like all we do is miss each other, but in the next 10 years, you'll be 18, and get a hang of grownup issues. Even then, you'll still be daddy's little girl no matter where both of us will be, and I'll protect you with my life. I love you from the bottom of my heart. Happy 8th birthday mamaa," he posted.