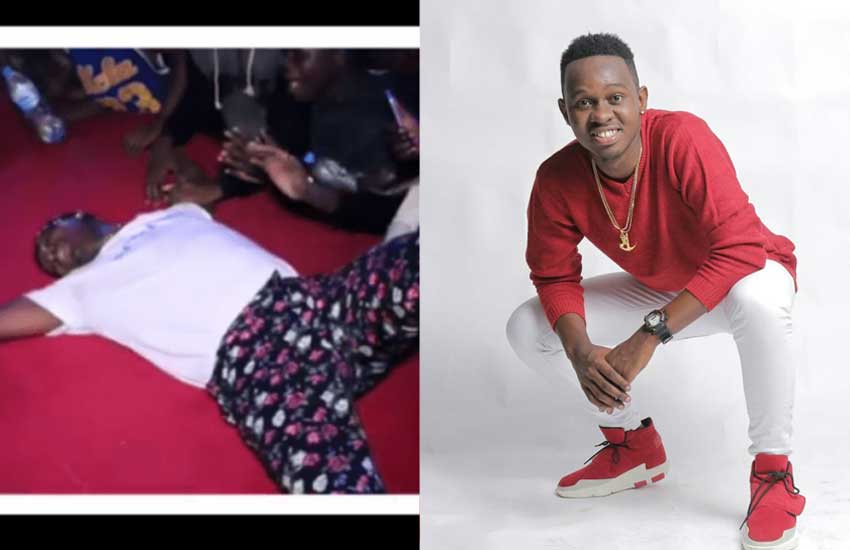 Bongo star Lava Lava is lucky to be alive after unexpectedly collapsing on stage after being kissed by a fan.
Half way through his performance in Morogoro, a lucky fan managed to get to the stage and planted a heavy kiss on the Lava Lava who then collapsed leaving fans in shock.
Some at first thought it was a joke, but the artist had to receive medical attention before the show could proceed.
The WCB signee through his Instagram revealed that he had no idea what happened during that time when he was performing alongside fellow artist Mbosso Khan.
"Kwanza Nimshuru Mungu Mana Pengine Nisingeamka Mpaka Sasa Sielewi Nini Kilinifanya Nikazimia Bado Sielewi Kama Huyu Dada Ndie Aliesababisha Ama Kitu Gani Lakini Pia Ahsante @arbaabmb Mana Uliweza Kunisomea Bila Kujali Mazingira Gani Tuliopo Sema Huyu Dada Kunikisi Huku Veep Alitaka Kuniauwa Mana Anajua Kabisa Mimi Nina #Gundu Mambo Haya Sijawahi Kufanyiwa…." Lava Lava posted.
The organizer on the other could not understand what happened and he tried to put his two cents on the matter that left many baffled.
"Moja ya kitu ambacho kilinishangaza sana ni baada ya mdada mmoja hivi kupanda jukwaani na kumkiss @iamlavalava halafu @iamlavalava akawa kama kabutwaa mara akaanguka chini mi nikajua utani ila dakika kadhaa naona zinapotea @iamlavalava hamkii nikaona mmhh!! Ninin tena Mungu wangu ikabidi sasa nichuchumae chini na kuagiza maji huku nikimsomea dua ilichukua kama dk fulani hivi ndio @iamlavalava akapata nguvu na kurudisha kumbukumbu nakuendelea na show daah hata sijui ilikua ni nini ila ghery,'' the event organizer posted two days after the incident.
The bongo sensation is expected to perform in Mombasa this month.