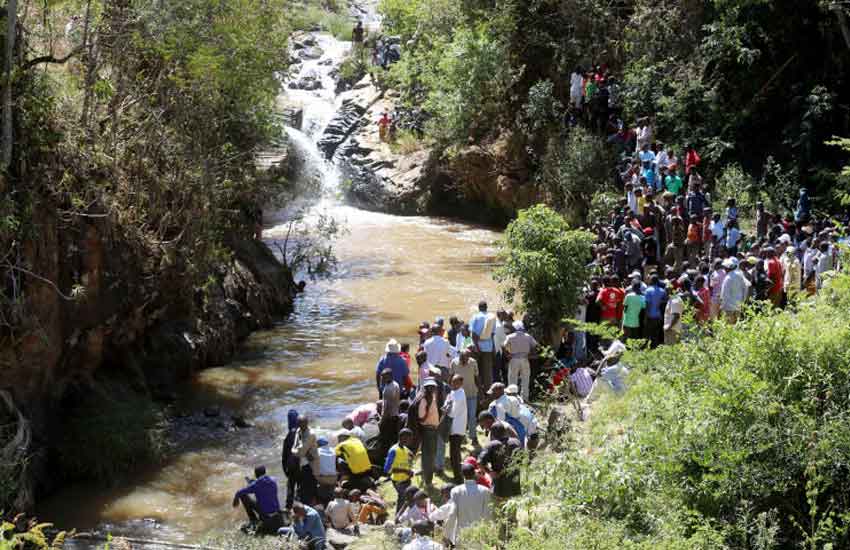 A family is in mourning after their 24-year-old son slipped and drowned in River Molo
The man who graduated recently, slipped and drowned while taking pictures with friends
He tried to swim to safety but was overwhelmed by fast flowing waters
A sombre mood engulfed residents after a 24-year-old man who graduated recently slipped and drowned in River Molo while taking pictures with friends at Lelechwet village, Salgaa, Nakuru County. 
Elvis Keter was with three friends, a man and two ladies when he fell into the river and drowned on Friday evening.
Alvis Ng'eno, his childhood friend whom they were together with before he drowned, said he received a phone call from one of the ladies who informed him that she was traveling from Nairobi and would like to meet them.
On arrival at around 5pm, the lady said she wanted to meet Keter. Ng'eno and the two ladies later picked Keter at his home and proceeded to the water falls on the river.
"I received a call from Keter's friend who requested to meet him, later, we decided to take a walk to the falls at the river," he said.
The deceased took selfies at the falls before he handed the phone to one of the ladies to take more pictures.
However, while taking pictures, he slipped into the river and drowned at around 5.30pm.
Keter tried to swim to safety but was overwhelmed by fast flowing waters.
Locals responded to the trio's distress call but it was too late.
"Keter was taking pictures and after handing over his mobile phone, he slipped and drowned. We could not dive into the water after being stopped by locals," said Ng'eno.
His mother Esther Wanjiru was overwhelmed by grief as she recounted the last moments she spent with him. He was the second born in a family of five.
Ms Wanjiru said she served his son with breakfast before leaving to operate her small business in Salgaa trading centre.
"I left my son taking breakfast with his siblings and went to open my business. Later at around 6pm, I received shocking news that my son had drowned," she said.
Keter graduated from Kabarak University with with a Bachelor of Computer Science degree on December 16.
His mother described him as a social, humble, hardworking and responsible man.
On Christmas day, Keter, a youth leader at Salgaa Kings Outreach invited friends to their home and they dined together.
"It is sad that death has snatched my lovely son who was friendly and always encouraged other youths. He was a God fearing person," said the mother.
Ng'eno said Keter had secured employment at Harco Limited, and was expected to report on January 4.
His father, Henry Kilel said he was with Keter at around 1pm, and they took lunch together before he went to meet his friends.
"I spent the day with my son only to receive a phone call that he had drowned. It is sad to lose him at his prime age," said the father.