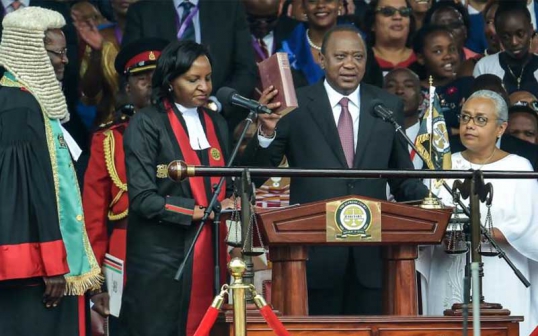 President Uhuru Kenyatta declared that he would be president for all, and will devote his time to unite all Kenyans, upon his inauguration earlier today.
"I will be the president for all and I will devote my time and energy to build bridges and unite and bring prosperity to Kenyans," he said.
Attributing the success to God, Kenyatta thanked all who voted, dedicating the day to them including the Independent Electoral commission (IEBC) and Supreme Court for the work they did during the elections and election petitions respectively.
He said that he listened to the opposition and will incorporate some of their ideas in his second term.
"I too listened carefully to my competitors, and, in the spirit of inclusivity, I will endeavour to incorporate some of their ideas. This is because the election was not a contest between a good dream and a bad dream; it was a contest between two competing visions. I believe that those who voted for me chose the better vision. This, however, does not invalidate the aspirations of those who did not vote for me," he said.
He urged Kenyans to come together and build the nation.
"There are two significant things that I believe we must address ourselves to, if we are going to build a united, stable, and prosperous Kenya for all. The first one is to muster the courage to embrace the future by freeing ourselves from the baggage of past grievances. The second is to keep to the rule of law."
Kenyatta won the October 26 elections that were boycotted by Opposition NASA.