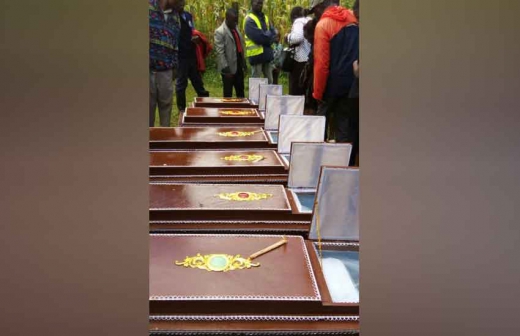 The woman and her five children were burnt to death when her lover set their house ablaze
The woman's father says he had prevailed upon her to return to her matrimonial home to no avail
The six family members were buried in mass grave
A sombre mood engulfed Kimela farm in Kiminini when six members of the same family who were burnt to death last week were buried.
Christine Nekesa died alongside her five children when her lover, Absolom Kithaka, reportedly set their house ablaze as they slept. 
Relatives and neighbours said Nekesa and Kithaka often quarrelled over family property.
"I wish Kithaka was alive to tell us what went wrong. However, he suffered the same fate as my daughter and her children. I forgive him," Nekesa's father Jotham Weyombo said.
"If my daughter had listened to my advice and returned to her husband, perhaps this could not have happened. I will miss her and my grandchildren," he said as the victims were buried in a mass grave on Saturday.
Nekesa, 31, is said to have abandoned her husband Michael Juma to live with her lover, a retired prisons officer, in Toll Station.
Area chief Mildred Chesoli said she had advised them to seek legal advice on how to share the property.
The children who died on the spot were Yusuf Oyombo, 15, Doricas, 12, Lillian, 4, and Damaris 9. Leah Oyombo, 17, succumbed to burns two days later at Mt Elgon District Hospital.
Weyombo said he made several attempts to convince his daughter to go back to her matrimonial home to no avail.
"I urged her to return to her husband who had even paid her bride price but she refused to listen to me. This is a major loss to my family," he said.
"I forgive the man who wiped out my daughter and her children but I condemn the act."
"I wish he told me if he had a problem with my daughter and I would have intervened. May God rest their souls in peace."
Nekesa's mother Rose Nasimiyu broke down and was unable to address mourners.  
Nekesa's sister Rose Nasimiyu described the incident as unimaginable. "This is unbearable. It is a big loss to our family and I ask all of you to pray for us," she said.
Another chief, Sylvester Momanyi, said he had tried to reconcile Nekesa and Juma before she moved out to live with her would-be killer.
"I again tried to persuade Nekesa to return to her husband but she refused. It is unfortunate this happened," he said.
Juma refused to address mourners. He said he had nothing to say when the Master of Ceremonies invited him to speak. 
Pastor John Wanyama, who conducted the funeral service, directed that the bodies be placed in the grave according to age; Nekesa's first.
Kiminini MP Chris Wamalwa and Milimani MCA Eric Mwangale termed the incident unfortunate.
"It is sad losing such innocent lives. Let us look for other ways of resolving disputes. Violence does not solve anything," said Dr Wamalwa.