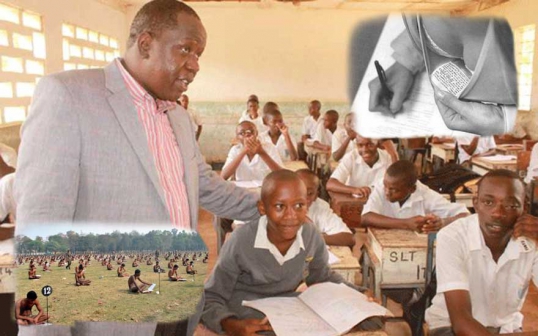 Cheating in this year's national examinations will attract a jail term of five years or a fine of Sh5 million.
This was made possible after President Uhuru Kenyatta yesterday assented to the National Examination Council (Amendment) Bill, 2016 introducing these punitive measures proposed by the Ministry of Education to guarantee the veracity of the national examination process.
The Bill, was among eight signed into law even as the President declined to assent to one on refugees. The new law will take effect before the start of the Kenya Certificate of Secondary Education (KCSE) examinations in October following public outcry of exam irregularities in the past leading to arrest and cancellation of results.
It will no longer be a 'juicy affair 'to leak exams or schools to collude with unsuspecting people at the Kenya National Examinations Council to steal exams. "The offence shall attract penalty of a term not exceeding five years or a fine not exceeding Sh5 million shillings or both," said the President.
He added, "It creates an offence against a member, officer, agent or staff of the council whose omission or commission leads to an examination irregularity."
A tribunal to be known as the National Examinations Appeals Tribunal, which shall consider all appeals made against a decision of the Council to withhold, nullify or cancel examinations prepared and administered by the Council has been set up.
The means that aggrieved students or parents will not necessarily move to court to seek redress but petition the tribunal.
The 2015 KCSE exams had the highest ever recorded number of cheats who found out at 5,101 candidates, compared to 2,975 in 2014. In the same year, 171 people were arrested and charged in connection with cheating, 34 of whom are teachers and two officers nabbed in Kilifi for allegedly leaking examination papers.
Other bills also signed into law include The Parliamentary Powers and Privileges Bill 2014; the Occupational Therapists (Training, Registration and Licensing) Bill 2016; the Kenya Trade Remedies Bill 2017; the Nairobi International Financial Centre Bill 2017; the President's Award Bill 2017 and the Companies Amendment Bill 2017.
Related Topics