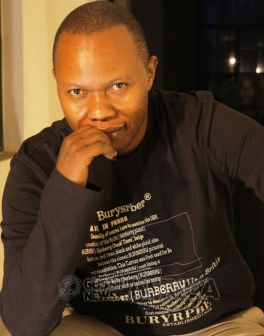 Pastor Eric Omba has lashed out at gospel musicians who are busy seemingly preaching water and imbibing wine.
The ex - husband to popular gospel singer Gloria Muliro and who is also the CEO at Spotlight Media warned of fake gospel artistes especially those who have been involved in scandals in the past which he claimed they use as a platform to be recognized.
In a Facebook post on Sunday 24th January 2016, the pastor did not mince his words calling such artistes pretenders "..Who create fake scandals every time they are about to release a song so they can receive more airplay."
The post read in part;
Be Careful with some Musicians, the so called Gospel Artists Especially those who always been involved in Scandals all the time. Music is meant to Praise, worship our God, Encourage and building our faith stronger .anytime you see some are misbehaving ,that gospel artist is not serving God on contrary is Confusing Children of God so that we won't pay attention to praise Our God.
 Some are even Using Scandals To make them self - Known and anytime some want Release a new song Create fake Scandals so that their songs can be a heard and receive more views ,they want pple to pay attention to them not on God. Pple of God be aware of this. Shame on Some Musicians now they are focusing on money ,Fame and they preach water yet drinking Wine. MONEY is not bad and paying an Artist is not bad BUT Shame on Some who are paying attention on money 100% We need to pray so that God can bring back true worshiper like 4 years ago.
God will BURN all PRETENDERS.
He went ahead to caution gospel musicians to ensure that if they need help in their songs from him they should ensure that their songs clearly have a Christian message otherwise he won't be of any help.
Pastor Omba who seems agitated by the recent vitriol in the gospel music industry has gone ahead this morning to remind those who worship God in truth and honesty that " …they will reap good proceeds and if money was the issue it will come in abundance someday."
He posted this message of hope on his Facebook page sending a clear message to those who are against the true worship of God. The post read in full;
I decree & declare, ur secret hater shall weep publicly ! Good news shall hit you on every side. Every challenge u go thru dis year shall result to joy & promotion which wll profit ur life. You shall nt spend ur days in sickness & pains or sorrow. Anyone with wicked attempt to send you to early grave shall be wasted without mercy. Exceeding Grace shall baptize u & work for you in every circumstances. Money wll not defeat your vision dis year. Money & wealth wll serve you all the days of ur Life. IJN Amen. Have a Glorious day