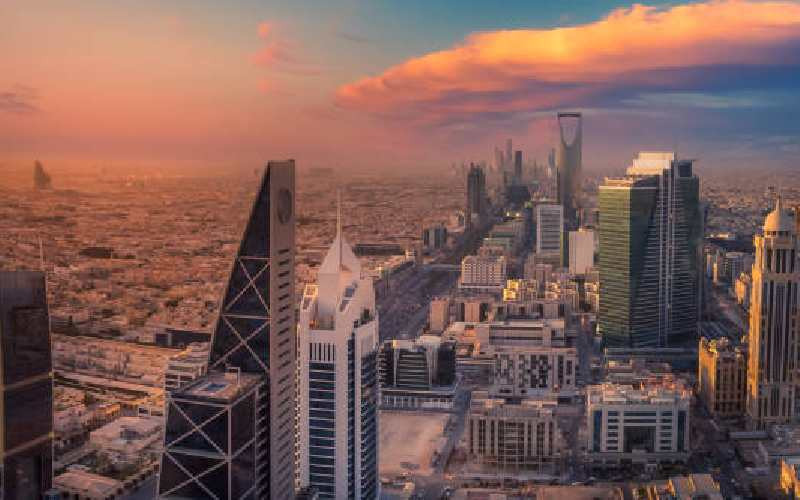 Agents recruiting Kenyans to work as domestic workers in the Middle East came under sharp criticism after claiming that women are mistreated due to a lack of discipline.
Francis Wahome, the chairperson of the Association of Skilled Migrant Agencies in Kenya (ASMAK) said most girls are mistreated for being hardheaded and failing to obey their employers.
"Our girls have no discipline. And I am sorry to say this. Why do you think that a Saudi Arabian would pay a lot of money until the housemaid gets there only to mistreat her? That is a wrong word, we should not be discriminating against these people," Wahome said.
He spoke during the release of a report by the Commission on Administrative Justice on Systemic Investigation into the Plight of Kenya Migrant Workers in the Kingdom of Saudi Arabia.
Wahome argued that some cases of statements are self-inflicted and that the pre-departure training on homecare should incorporate units to educate Kenyan migrant domestic workers on how to conduct themselves while working in a foreign land.
Wahome noted that some women escape from their employers and that it becomes a loss to the employers, who pay hefty charges to recruit the girls.
"It is really costly to take one person out of the country. Most of the women come without birth certificates and we have to facilitate them to get the required documents," he added.
However, the recruitment costs incurred before the prospective woman travels are catered for by the employer.
"It costs us Sh4,500 to get the passport but we have to 'pay more' to get it faster. The per-departure training cost about Sh25, 000. Sometimes we have to pay for accommodation charges for the girls who travel from far-flung counties for training and give some money to their families," said Wahome.
He added that an air ticket costs about Sh40, 000 among other facilitation fees.
"These Saudi Arabian do not buy workers but they pay for the service. Even here (in Kenya) when you ask for a maid to come from Nyeri or Kakamega or wherever, you pay for the service and that is the same case in Saudi. They don't buy," he added.
Wahome said the government allowed agencies to charge Sh110, 000 as recruitment costs paid by the employer.
However, he noted that they end up incurring more costs to 'hasten' recruitment processes, hence they negotiate with the employers to pay higher prices to facilitate the movement of girls.
"How different is this process from human trafficking if there is no legal framework on how the association conducts its business? You are talking about people's children and Kenyan workers. What is the legal framework of these charges which you are being allowed to practice in?" a participant posed.
It also emerged that some families sell land to facilitate their girls' travel costs in hope that they will help them out of poverty after securing lucrative Saudi jobs.
"Nobody should be charged anything as prescribed in the Labour Laws. It is illegal and unethical. The recruiter on the other side is the one that pays equivalent to one month's salary. Somebody is looking for money and they told us to go look for Sh110, 000," said Ambassador Washington Oloo, Director, Diaspora and Consular Affairs at the Ministry of Foreign Affairs.
The association has about 365 recruitment agencies but the government has registered 743 agencies.
"I look at it in the business way because everything lies in our hands and all media reports blame us. Nobody asks why those girls run away and at whose cost," said Wahome.
Some of the women interviewed in the report revealed that they went for days and others months without food but the ASMAK chairperson dismissed the claims as 'illogical'.
"How can you stay seven months without food? is it logical? Sometimes let us speak the truth", noted Wahome.
According to the report, private recruitment agencies reported that some agents have incurred financial losses since some migrant workers change their minds or refuse to travel to Saudi Arabia after the process which they termed as costly.
"Some domestic workers recruited to Saudi Arabia get influenced by other Kenyan workers in the county to run away from their employers by promising them higher salaries while some have a poor attitude and therefore, fail to take instructions from their employers," reads the report.
"This leads to disagreements whereby agents find it challenging to get a replacement. There is, therefore, a need to develop policies that govern migrant domestic workers and penalties for rogue migrant workers.," reads the report.
Wahome argued that labour export is a 'new' business in Kenya with the potential of boosting the economy but the government is grabbing it with one hand.
"One side is saying Saudi Arabia is overtaking other countries by remittances. But how did this happen? Everybody was told to go work at home during covid-19 and the people who were employed in homes were the maids. That is the time they started streaming into the country," he added.
According to Wahome, thousands of girls whose futures were cut short during covid-19 due to unplanned pregnancies have the opportunity to work in other countries and that should not be discriminated against.
He particularly opposed the requirement by the National Industrial Training Authority (NITA) that prospective Kenyan migrant domestic workers must have a Kenya Certificate of Primary Education (KCPE) certificate as a minimum academic qualification.
"When we are making laws we should think about these people especially those who were impregnated during the Covid period, and they are many more than 30,000. Where shall we place them? If somebody in the world is ready to offer them a job, look for a mechanism to get that person educated and get a job," said Wahome.
Monetising the process
CAJ chairperson Florence Kajuju condemned the agencies for monetising the process of getting Kenyan women to Saudi Arabia and other countries.
"We will ensure the recommendations are implemented because we know where the problem is. You cannot tell us that you are spending so much money to bring a girl from Turkana to Nairobi and fly them out to Saudi Arabia and you are not telling us what you do when that girl goes there and dies," said Kajuju.
The ASMAK chairperson also opposed the government's directive that repatriations should be left to recruiters in case a domestic worker has a problem and would like to return home.
"Is it my work to look for jobs and repatriate or is it to get jobs for Kenyans? My responsibility is to ensure that a Kenyan, who was going around during campaigns waiting for some Sh300 or Sh50 at the end of the day, gets a permanent job and somebody somewhere is ready to offer this job. What is required of you (democrats) to study these jobs is to ensure our children secure them. Let this blame not come to us anymore," Wahome added.
Further, all recruitment agencies should be merged into a single entity for enhanced scrutiny.
"We do not have data and it's a big shame for this country. There is no other Bilateral Agreement (BLA) working apart from the one in Saudi Arabia. We should have BLAs in other countries and strengthen the ones that are working".
According to Wahome, Kenyans find it easy to work in Saudi Arabia, since it is the only easy place to escape.
"We need to ask ourselves who has failed in the whole process. As recruiters, we are doing our jobs to get jobs for Kenyans, but who is supposed to give them security? I cannot stand at every door where a Kenyan is working, what about others?", he posed.
On the minimum requirement, Wahome urged the National Industrial Training Authority to allow Kenyans to apply for jobs even without an academic certificate.
"People are being discriminated against because they do not have a KCPE certificate. Who said somebody cannot work because they'd not have a certificate? That is discrimination and it starts from home. It doesn't start from Saudi Arabia," Wahome argued.
He noted that there are Kenyans who travel as tourists and go looking for jobs while in Saudi Arabia.
"Right now, the government, is very busy preparing to set up safe houses and it sounds good to every ear but nobody is looking at the issue of tourist workers. Some of these girls go to those countries as tourists and these houses could become hubs for such Kenyans," he said.
Conflict over culture
Commissioner Sarah Bonaya of Kenya National Human Rights Commissioner urged the recruitment agencies to match prospective employees with potential employers to avoid conflicts over culture, skills and language barriers.
"We cannot manage to teach Arabic language and foreign culture within the stipulated training days but we can match employees accordingly. If there are people who are good at Arabic and understand the culture, let's put them there," said Bonaya.
She called on the Ministry of Foreign Affairs to ensure all the workers are registered and known to them.
"The migration desk should also be very active. We must ensure Kenyans who are brought in caskets have all their organs intact. Some are taken there as employees and little is known about the cause of their deaths. Maybe they lost their organs," said Bonaya.
Cleophas Odhiambo, from the Ministry of Labour, said various government agencies involved in labour migration have varying statistics on the Kenyan migrant workers in the Middle East.
"There is a disconnect in the number of employees cleared. You'll find that our data of the number of employees cleared in our department during the attestation exercise does not match with that number at the immigration department," said Odhiambo.
He noted that some Kenyan travel to the Middle East as tourists and end up looking for employment while already in a foreign land, making it difficult for the department to account for their travel.
"We need safe houses in these countries because labour attachés are using their offices as holding rooms to accommodate serious cases. Once the issue establishing safe houses is actualized we will have achieved a milestone," he added.
Related Topics