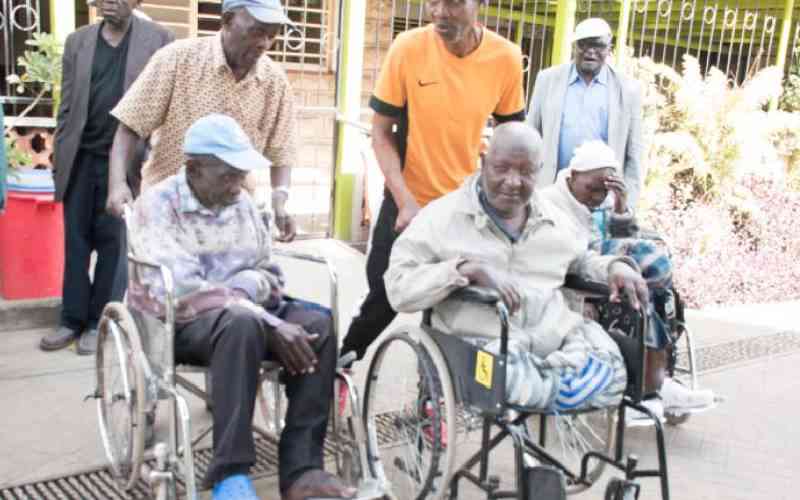 Daudi Murumbi was born on the Meru side of Tana River in the early 1900s. In his old age, he is fluent in Kikamba, Kimeru and Kiswahili.
He sits blind at the Cheshire Home of the Elderly, where he voluntarily delivers wisdom in all three languages to anyone who cares to listen.
Visitors, well-wishers, and passersby come and go, the days too, but none of his six children has ever set foot at the home for the 11 years he has been there.
Murumbi holds nothing against them. But he harbours a few regrets.
For instance, he feels he should have taken it slow dating his children's mother, whom he blames for poisoning their minds against him over the years.
He also thinks he should have learnt to communicate better with her during their marriage.
Still, he's confident in the fact that he never once lifted his hand to smite her, no matter how far south things went.
His recollection of events is not very coherent, but he remembers he lived in Athi River and woke up one day and couldn't see a thing.
"My mind was not very good, but I remember knowing that my eyes were open, but I couldn't see a thing," he says.
"Luckily I had a rapport with the chief of the location and when he learnt I'd gone blind, he took me to Kenyatta National Hospital, and later Kikuyu eye clinic, but the answer was always the same. I had glaucoma, and chances of regaining my sight were almost nil."
Murumbi could no longer fend for himself, and the chief gave him two options: to get a monthly allowance entrusted to a caretaker or go to a home for the elderly. He chose the latter.
"I know many older or disabled people who face so much abuse from their caretakers, from food deprivation to physical abuse and negligence. Most can't report because they've resigned to fate, and even when they report, authorities don't do much," he says.
He says he found contentment in his faith and the home, where there are trained caretakers and folks of his kind who provide companionship.
If Murumbi is lucky, Maria Kalondu, in her 90s, is not. She lives on a parcel of land in Kaseve, Machakos, left behind by her husband decades ago.
Her two sons live in huts near hers. One of them, clinically confirmed as mentally unstable, forced himself on her from time to time.
It took months for neighbours to report the case to Nyumba Kumi officials, and only under pressure did the wife of the second son consent to live with her mother-in-law.
Aside from abuse of the elderly, age prejudice, commonly known as ageism, is rife. According to reports, older members of society are seen as incompetent, hostile, or a burden.
As if old-age diseases and loneliness are not enough, society intentionally discriminates and overlooks their contributions to their communities.
October 1 marked the International Day of Older Persons, and the theme for this year is "Resilience of older persons in a changing world," with an aim to recognise and celebrate older persons' contributions to society.
Various organisations such as HelpAge International and Ageing Concern Foundation, which work to strengthen the livelihoods of older persons in the community, raised awareness of the importance of improved data collection, disaggregated by age and gender.
They called on the government and agencies such as the United Nations and civil society to include older people, especially women, in policymaking and budget allocation.
"The rights of older people are the most neglected areas in advancing human rights in Africa," said Roselyn Kihumba of HelpAge International.
Related Topics