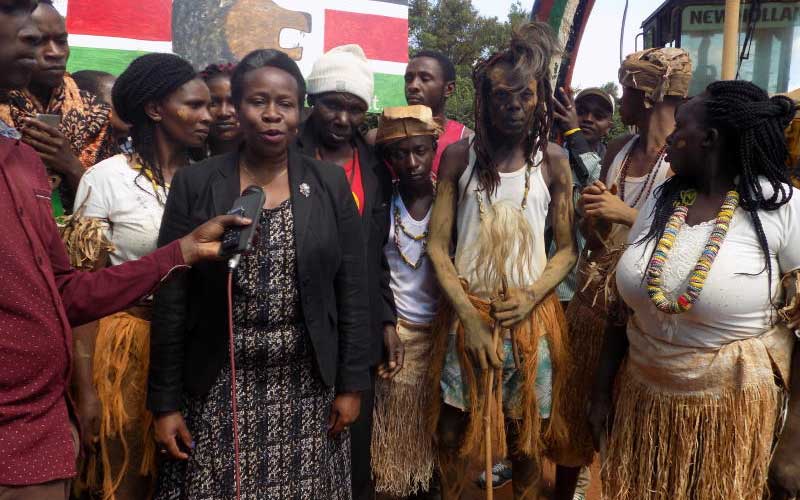 Female circumcision is fuelling the spread of homosexuality in Embu County, an official has warned.
Gender, Children and Social Services Executive Dr Joan Mwende expressed concern that same-sex relationships were taking root in Embu as men avoided women who had faced the knife.
"Many young men believe Female Genital Mutilation (FGM) kills a woman's libido. Some men say female circumcision is like immersing charcoal in water and then trying to light it! Consequently, they prefer "uncut" girls and if they cannot find them, they turn to gayism," claimed Dr Mwende.
Dr Mwende warned that circumcised girls who are shunned by men are further traumatised, in addition to dealing with the pain and bitterness of having been forcefully subjected to FGM.
She said that in some cases, girls as young as five years old were being circumcised after the older ones are 'cut'.
Speaking at Siakago Social Hall when she launched a team of champions tasked with fighting FGM during the holiday period when most girls are subjected to the cut, she urged stakeholders to join hands in fighting the retrogressive rite of passage as it risks stunting the population of the county.
"Homosexuality is rising fast in Embu. Combined with miraa-chewing, this risks reversing population growth in a county that has less than 600,000 people. We must fight FGM and homosexuality for the sake of our future and continued existence of our community through generations," she said.
In April, Eastern Regional Coordinator Wycliffe Ogallo and Regional HIV Coordinator Marion Mashoo raised concerns over the rise in gayism and prostitution in the counties of Embu, Tharaka-Nithi and Meru, which could slow down the fight against HIV/Aids.
The three counties had 5,865 female sex workers and 737 men who have sex with men enrolled in a programme by the National Aids Control Council (NACC) in 2016.
Embu had 1,031, Tharaka-Nithi 1,442 and Meru 3,391 female sex workers in that period.
Statistics for men who have sex with other men (for pay) showed Embu had 117, Tharaka-Nithi 111 and Meru 509. The region had about 600 people who inject themselves with drugs.
Mashoo said they were concerned that the three groups have the highest risk of contracting and transmitting HIV, yet they also have the least access to prevention, care and treatment services because their behaviours are often stigmatised and even criminalised.
She said they had engaged in campaigns to sensitise those key populations to embrace condom use and frequent HIV testing in combating the menace.
Ogallo said the rise in same-sex relationships in the three counties was a cause for worry since the habit was alien to the region's cultures.
"The rise in gayism could be attributed to the dismantling of traditional African customs, when penalties for such acts were harsh. We are concerned that same-sex relationships and prostitution could slow the fight against HIV," he warned.
He said they had instructed all hotels, bars and entertainment joins to have stocked condom dispensers.
November is the hustle month and we are all about youngins making their money, and we need your help. Do you know of any young person in school/campus who is running a hustle that absolutely deserves to be celebrated? Drop us an email on: [email protected]