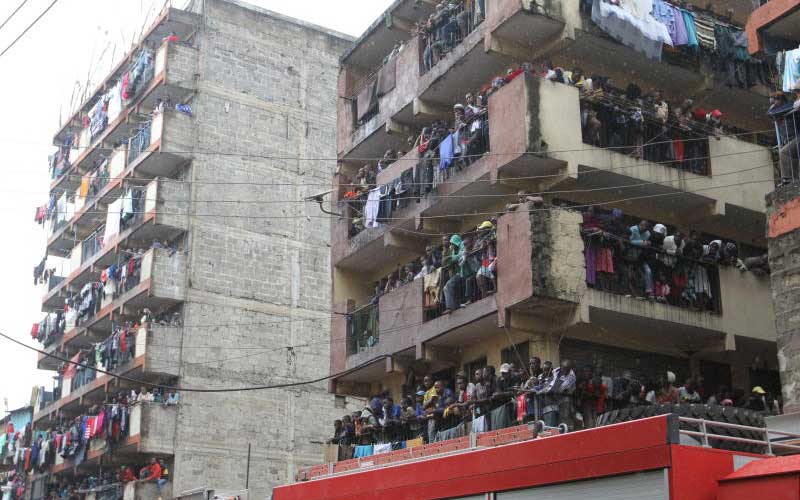 Life is full of theatrics, which sometimes can be so annoying for Nairobians living kwa ploti. The ploti is usually full of either bedsitters or single rooms with communal showers, toilets, laundry area and mfereji ya vyombo.
The landlord or landlady also lives there and doubles up as the caretaker, carrying hundreds of keys on battle-hardened fingers. Here are 10 things about living in a ploti.
1. Bed sheet-size wet ngothas
Baba Cynthia of house number 10 and Lucy, her house help, hang their bed sheet-size yellow, indigo and maroon wet panties outside on the communal lines blocking the sun and thus limiting your access to vitamin D, which explains the scales on your face.
Some of their ngothas bear weird emoji or fake brand names like 'Andidas' and 'Nyke'.
2. Fish bones kwa sink
Those in house number 12 have no qualms washing karai ya fish in the communal sink where they leave a thousand small bones and tiny fish eyes around a pool of stagnant sink water.
The single men have to wait for gossiping women before they can wash their plates stained with avocado over githeri effects.
3. Reggae music galore
The ploti is a cacophony of music from reggae by those single men in house number one to Lingala in number 12 and Bongo Flava in number seven.
The single lasses in number six have a habit of waking up everyone after staggering home with rowdy friends in the wee hours of Sunday morning before shaking the wobbly floors like an earthquake measuring 6.9 on the Richter Scale.
4. Blackout ya iron box
The landlord/caretaker installs 'cut-out' to tame those using high-voltage appliances but there is always that idiot who will throw the ploti into a blackout after using the heater or iron box and when power goes off, he is the first one to shout, "Sasa ni nani huyo ako na ufala hivyo?"
5. Wash and wait rule
There are many sneaky thieves kwa ploti and therefore, one has to wait with a stool outside for wet clothes to dry, otherwise the said kauzi will steal not just the clothes on the line, but also karai with maji in it, as well as bathroom sleepers outside the door.
6. The 24/7 rainforest
A ploti with upper floors means clothes start drying from the upper floors and by design, the last to dry are those on the lower floors, where there is a 24/7 rainforest from above. You have to cover your clothes with juala and pray they dry within the week.
7. Access denied!
Gates at the ploti are locked at 9pm sharp and those who stagger late in the night have to contend with scaling the fence when not going hoarse calling out for the caretaker while smacking the gate like Kanjo askaris, in between looking out for watu wa ngeta!
The noise causes toddlers to start wailing and all hell breaks loose when you're just settling into cosy dreams!
8. Booking bafu with towels
The first person to hang a towel outside the door of the communal bathroom is the first to shower, but the guy in number five has a habit of hanging his black towel and going back to bed!
9. Lungula yells
Walls are so thin in most plotis you can hear the couple in number six engaging in their adrenaline rush 'rematch' from where a high-pitched moaner and creaking bed prevents you from sleeping.
10. Vita one million
There are endless fights in the ploti occasioned by among others, brawling over clothes lines, kids eating kwa jirani or when the queen of pang'ang'a in number seven is told to tone down her moaning.