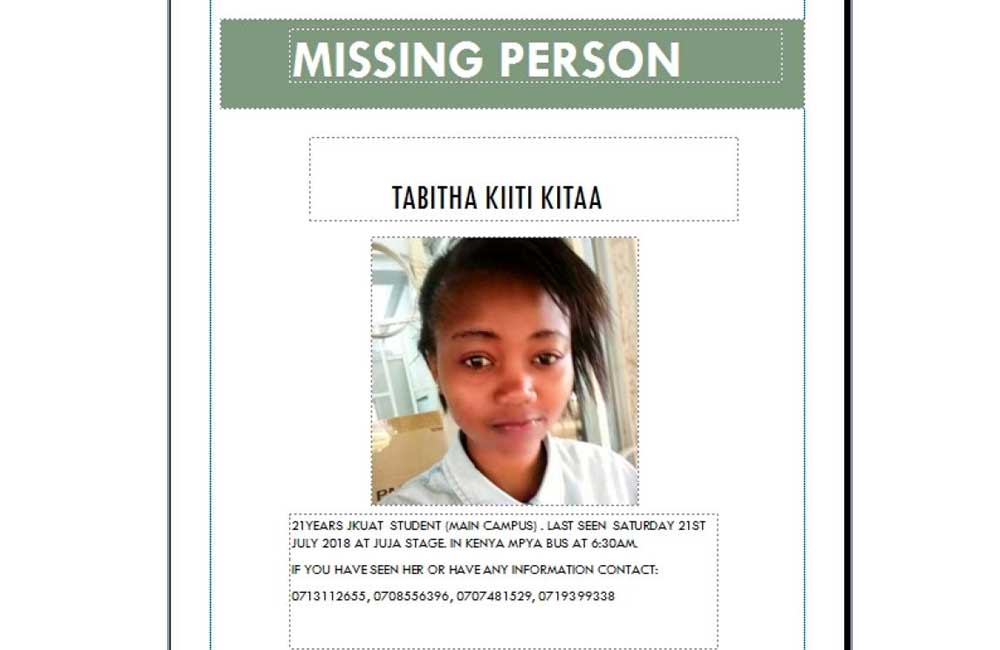 The lifeless body of a female student at Jomo Kenyatta University of Agriculture and Technology (JKUAT) was found dumped at the campus gate.
The student, Tabitha Kiiti, was reportedly last seen boarding a city-bound bus on a Saturday morning in the company of her colleagues hours before she went missing. Her body was later found dumped outside the university gate on July 24 evening.
Speaking to The Nairobian on phone, Jomo Kenyatta University Students Association (JKUSA) president Ibrahim Boru, while quoting a witness, said Tabitha did not alight from the bus.
"Her colleagues pleaded with her to alight, but she did not budge. The bus drove off with her still inside," he told The Nairobian.
According to friends who recorded statements at Juja Police Station, Tabitha appeared disturbed, but did not disclose what was bothering her. 
Police said she was last seen on Saturday morning at Juja bus stop. Her body was later found dumped in a nearby bush. Next to the body was her national identity card.
"She was found dumped near Gate D, with no visible injuries, though she had some bruises on her cheeks. A packet of condom was also found near her body," one of the students told The Nairobian.
Police who have since launched an investigation told The Nairobian that, "We still have very little to share with you. We are treating everything as a rumour until we are certain of what really happened. We will also wait for the postmortem report."
Students have expressed shock at Tabitha's death, with close friends saying she was fine and were surprised by rumours of her disappearance.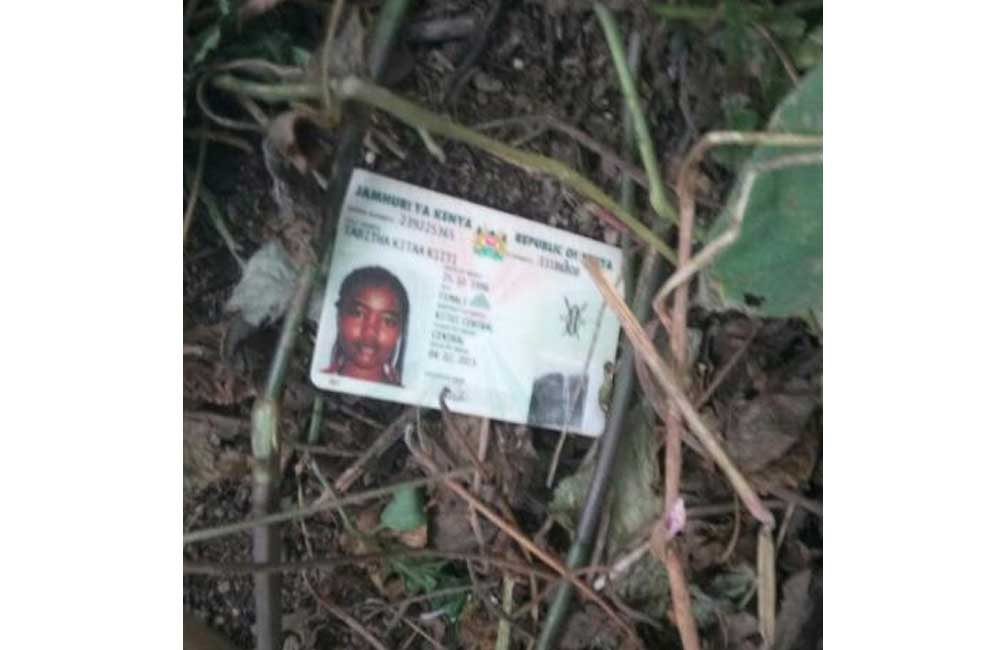 "I met her on Friday, she was full of life and wanted to tell me something, but I was rushing for a lecture so we promised to catch up later. Unfortunately, we didn't meet again," said Esther Njoroge, her high school days friend.
She said Tabitha was a bright girl who loved to sing.
"I knew her from Moi Girls High School in Eldoret. She was cool and liked keeping to herself most of the time. It is sad she died like that," she said.
Jane Kimani, a cousin who is also a third-year student at JKUAT has dismissed claims that Tabitha had gone out clubbing on Friday night before disappearing. She cautioned students against spreading rumours, saying Tabitha was not a party animal.
"Comrades must stop spreading rumours and lies about Tabitha's death because these reports are not helping the family. I was at the mortuary and I can tell you her body is clean with no marks and that is scary," she said
The 21-year-old was a fourth-year student pursuing bachelor's degree in business information.
The body of the deceased was moved to the Kenyatta University Mortuary awaiting a postmortem.