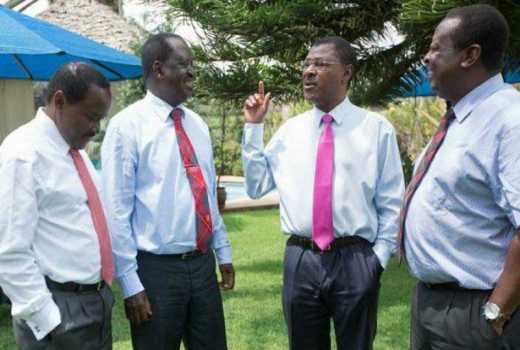 Why does ODM leader Raila Odinga continue hanging around the other three NASA co-principals, after it has been suggested that they betrayed him by not turning up at his glorified 'swearing in' ceremony on 30 January?
The ugly removal of Bungoma Senator and Ford Kenya leader, Moses Wetang'ula as Minority Leader in the Senate is so far the clearest indication of bad blood. Put this together with the secret activities that led to the political handshake with President Uhuru Kenyatta in front of Harambee House on 9 March.
Top it up with cries of 'betrayal' and 'cowardice.' There is little doubt that all is not well. Yet Raila stays on with those who are stayed to have 'betrayed' him.
When people have betrayed you, you don't hang around them. You move on. It was Nigerian playwright and Nobel Literature laureate Wole Soyinka who famously said that if the snail finds splinters in his shell, he changes house.
Why doesn't Raila change house in the face of much publicized splinters in his shell?  Indeed, Raila is Kenya's snail that has often found discomfort in his political house and changed shelter just as often.
Following the passing of his father Jaramogi Oginga Odinga in 1994, Odinga wanted to inherit his progenitor's position as the leader of the Ford Kenya party. However, circumstances within the party conspired against him.  The party was left in the hands of the late Michael Wamalwa Kijana, who had been one Jaramogi's two deputies.
The younger Odinga was unhappy to the extent that he decamped from Ford Kenya and took over the then little known National Development Party (NDP).
Not too long after, NDP had merged with the then ruling party Kanu, against all expectation, with Raila as the new Secretary General. But things did not work out too well.
The splinters in the Kanu house led Raila to decamp once again, this time into the Liberal Democratic Party (LDP). The new party would itself soon find shelter under the National Rainbow Coalition (NARC).
Here, Raila easily ensconced himself in the company of Wamalwa again. The story of their old conflict in Ford Kenya was forgotten, never to be mentioned again. Also in this company were retired President Mwai Kibaki, Charity Ngilu, alongside host of politicians who decamped from Kanu with Raila -because President Moi wanted Uhuru Kenyatta to be the Kanu flag bearer in the 2002 elections and his successor as President.
Uhuru became an object of ridicule in the circle around Odinga. The Narc team went on to win the 2002 election. Raila was appointed Minister for Roads.
Yet the amity within Narc did not last long. Apparently, Kibaki had promised Raila greater things than the Roads portfolio. Another fallout followed Kibaki's failure to honour an alleged MOU with Raila.
The spinoff was the formation of the Orange Democratic Movement. Raila exited Narc into ODM. Together with him were strange bedfellows. They included Uhuru Kenyatta and William Ruto, whom Narc had trounced in the 2002 elections.
While Raila has remained in ODM since 2005, when it began as a national referendum movement, he has hosted many high profile politicians, each of whom has left him crying foul. They have included Uhuru, Ruto, Musalia Mudavadi, Kalonzo Musyoka, Omingo Magara, Najib Balala, Joe Nyagah, Isaac Ruto, William Ole Ntimamah, Fred Gumo, Franklin Bett, Henry Kosgey, Sally Gosgey, and a host of other luminaries across Kenya's political Milky Way.
The NASA formation is accordingly only the latest of numerous political marriages that the ODM leader has contracted. It is also only one of the many times that Raila has felt betrayed. The significant difference is that on all other occasions, he has decamped.
There is of course a sense in which his March 9 handshake with President Kenyatta is seen as yet another decamping. The feeling in Emanyulia Village is, for example, that Raila has gone into Jubilee. The comportment of some of the people in ODM itself suggested that they were now in government and power.
They pranced about the place, throwing around political weight in the style of a fellow who walks in the company of a toughie in cowboy movies, and puts on tougher airs than the toughie. The Miguna Miguna fiasco at JKIA last week was, however, a reality check.
The 'tougher than toughies' in ODM fell silent, with the exception of a few neonatal operatives from Western, the type that reminds you of outsiders who weep louder than the bereaved. 
When the village belle Sidi in Wole Soyinka's play, The Lion and the Jewel, reminds the village teacher, Lakunle, about the snail and the splinters in his shell she says, 'If the snail finds splinters in his shell, he changes house. Why do you stay?' If Raila has left many of his previous houses after finding splinters in them, he has yet to find the courage to say that he has left NASA.
His attack dogs will say all manner of appalling things about NASA co-principals.  They are 'cowards.' They are 'betrayers.' They are told to 'shut up.'
It is difficult to convince anyone that their barking is without Raila's blessings. For, Raila has himself regularly said, 'If a dog is barking at you, you don't address it. You look for the owner.'
When the ODM attack dogs bark, those who wish to see them silent should address not the dogs but Raila himself. Having been 'betrayed' as he says he has been, why does he stay on?
Is Agwambo's bag of political tricks eventually empty? Does he imagine that he could retain the trio of Mudavadi, Kalonzo and Wetang'ula for soft landing should his shaky handshake with President Kenyatta be just that -a shaky handshake and nothing more?
If the Miguna fiasco is anything to go by, Raila's dalliance with Jubilee is surely headed for the rocks. He might find wisdom in reining his attack dogs, for his own political good. Yet it is probably too late.
Barrack Muluka is a strategic public communications advisor.
www.barrackmuluka.co.ke