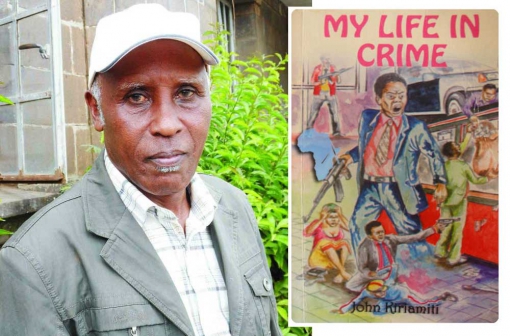 Former infamous robber and author John Kiriamiti has been accused of swindling businesspeople and residents of Murang'a town
The reformed bank robber, 67, shot to national limelight and enduring literary legacy through his crime novels
One of Kenya's most famous pop fiction novelists, John Kiriamiti, has been accused of swindling businesspeople and residents of Murang'a County.
The author of the best-seller, My Life in Crime, is said to quaff beer in bars without paying, besides procuring services from operators of small businesses but fail to pay. "He owes us Sh430 for beer he took and disappeared and has declined to pay," said Loise, a bartender. 
A cybercafé operator is demanding over Sh1,000 after doing some printing and photocopying for Kiriamiti who is said to have left without paying.
Many of his victims are bartenders in the town centre and its peripheries where Kiriamiti reportedly has  debts running to thousands of shillings. Loise told The Nairobian that, "Bartenders have blacklisted him as they have ended up footing the bills to keep their jobs."
Kiriamiti,  67, a reformed bank robber shot to national limelight and enduring literary legacy chiefly through his novels recounting his life in the underworld, a past that makes his victims cow as most fear reporting him to cops for whom he's said to be an informer.  
Kirimaiti previous edited the Sharpener, a newspaper that was published on and off, but currently few can tell what he does for a living.
"I remember a lady who billed me for Sh900 for some printing but I didn't have money then and I told her to wait," explained Kiriamiti who argues that he was being targeted by malicious people and that he doesn't threaten people using the police informer tag to escape debts but "it is true I am perceived so (police informer) and some have asked me if I am one but I am not."
Kiriamiti who went on to write other popular novels including; My Life with a Criminal: Milly's Story, My Life in Prison, Son of Fate and The Sinister Trophy, is also at loggerheads with junior Murang'a County staff for not paying parking fees.
"He is a thorn," lamented Moses Njoroge, a senior county enforcement officer. "We have clamped his car several times for failing to pay Sh50 and he ends up getting charged Sh1,050. Other times, he intimidates our junior askaris and end up not paying."
Murang'a County Police Commander Naomi Ichami promised to investigate the allegations  as Kiriamiti defended himself, claiming, "I was somewhere and there was confusion and I left without paying my beer and later I sent (the beer money) to the wrong person. I know I owe them and I will pay the bill. Like any other customer, I forget to pay and pay at a later date," Kiriamiti told The Nairobian.
But the author of the Abduction Squad and City Carjackers was at pains to explain why he has beer debts with nearly every pub in Murang'a town.
He admitted knowing his past as a famous bank robber scares some, but he denied that he uses the badass reputation to harass wananchi and county workers. Nonetheless, he confessed to skipping paying parking fees regularly.
"Sometimes I don't pay the parking because the by-laws say if you don't park for more than 30 minutes, you should not pay," "But I have not harassed county askaris. Those are unfounded allegations," he explained.