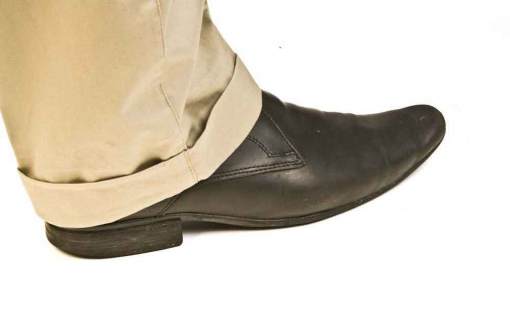 The official trousers had turn ups that neatly folded on the shoes
The trousers were also known for pleats that ran all the way from the shoe to the belt
The turn ups were also infamous for trapping dust and soil especially for those hustlers who relied on walks-wagen as the sole means of locomotion from A to B
Official trousers referred to as 'trao ya material' had turn ups that folded around 'office' shoes.
These types of trousers also spotted pleats, directing attention to the belt, mostly with a metal buckle.
The turn up had existed since the 1930s and white collar workers loved turn ups for various reasons. For one, it weighed down the bottom of the trousers making loose materials look neat at the ankles, accentuating laini ya pasi.
Two, it was the in-thing, even in 1990s Kenya where senior high school students visited  cherahani tailors to look cool. 
Three, the turn up-preferably inch thin-came in handy when the 'trao' shrunk through wash and wear and to lengthen, all it took was revisiting the cherahani place to undo the turn up, which was then pressed with pasi ya makaa to crease it out.    
There were two types of turn ups: ordinary turn up (described above) and the pin rolls, basically rolling up your extra-long pair of jean trousers up your cobbled boots for that unfinished look.
Alas! turn ups (which were killed by pleat-less trousers) were dust and mchanga collection troughs for hustlers using the 'Shoe-Baru', the 'Foot-Shu-Bishi' and the 'Walks-Wagen!'