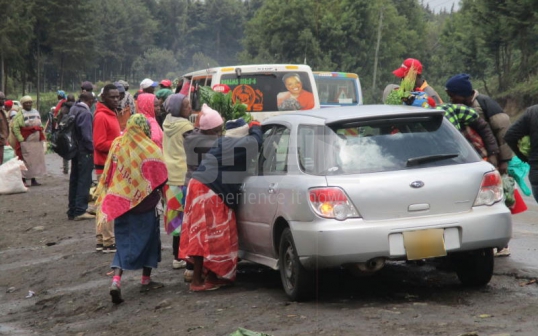 The market was nicknamed soko mjinga due to the ridiculously low prices
The prices come down if the traders see a potential customer walking away
You must have seen them, the women of soko mjinga who chase down motorists daily with buckets full of carrots, potatoes and other fresh produce on the foggy Kinare area along the Nairobi-Nakuru highway.
These mothers and their daughters have mastered the  art of ambushing and enticing motorists and passengers, who all along, have nicknamed the area 'soko mjinga' (foolish market) due to the ridiculous low prices they charge for their produce sourced from  nearby farms.
But what travelling customers from Kiambu, Nairobi, Kisumu, Mombasa and Garissa should know is that the market that was started by 20 traders in 1983 is not so mjinga as a soko.
 "It was the first market from Malaba border to Nairobi," says Racheal Nyaguthii, one of the pioneer traders. "You either got cheap produce from us or Marikiti Market (Wakulima) in Nairobi. We were like squatters here, so we sold cheaply to earn a living. Of course we are wiser today, but still cheaper."
It was, however, how they mobbed customers which earned them the nickname wajinga (fools). Nyaguthii says they mobbed motorists, each of them vending their wares and buyers would call them wajinga. The slur gradually bore the market's name. And it has stuck, 34 years later.
Peter Wanjala, a city banker stops there while driving to and from his village in Bungoma because of "cheaper prices, fresh produce and convenient location. I get a lot at once.  I don't find them mischievous like other traders along this road."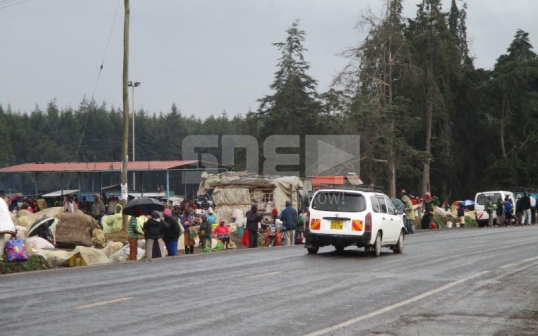 "We sell cheaply but we are smart," says Jane Nanjala, a trader. "Our profit margins are small, but we get customers in droves. Some even drive from Nairobi to buy from us, while others will ignore what is sold in their villages to buy from us on their way to Nairobi."
John Njuguna, who has been a trader there for over 20 years, attributes the market's popularity to its locality, freshness of produce and low prices.
But unknown to many motorists and passengers, the prices could come down if the traders see the potential customer walking as "those who chase after motorists are brokers and they inflate prices by Sh20 to Sh50 but buyers still find it cheaper," explains Njuguna.
It is these brokers who have made many Nairobians to think that the women of soko mjinga are not so stupid, after all.
A cabbage going for Sh10 there goes for Sh25 or more in city markets when sliced into Sh10 chunks. A bucket of potatoes or carrots costs around Sh350, but in Nairobi and neighbouring markets, the same goes for Sh500 or more. It's the same case for green peas, sukuma wiki, green maize, dhania and other produce.
"We supply Kangemi, Githurai 45, Naivasha, Mlolongo, Kitengela, Muthurwa and other city markets. We are cheap and some regular customers place orders before leaving the city for their villages," says Njuguna.
Former President Daniel arap Moi was their occasional customer with his favourite purchase being black beans.
"He would step out of the vehicle and choose what he wanted. I sold him eight buckets of black beans twice. Nowadays, he just waves at us whenever he passes by," reveals Nyaguthii.
Moi allocated them a five-acre land nearby to move away from the roadside but local leaders curtailed the move. The space remains unused to-date, but dozens of traders have been crashed by speeding cars and others injured, including Nyaguthii who was hit by a matatu in 2015.
Over 4,000 traders eke out a living from Soko Mjinga that opens by 3.30am and closes at 9pm.
Sukuma wiki sold in bulk is transported far and wide daily, with three lorries destined for Mombasa, two for Garissa and five for Kisumu.
Interestingly, the market lies in Kiambu and Nyandarua counties and the two authorities collect revenue alternatively.
The Soko Mjinga market in Kinare has spawned others, including the Soko Mjinga market on the roadside in Ongata Rongai on the outskirts of Nairobi and which was started by three traders in 1998.
Its official name is Kware Market but Soko Mjinga has been retained, explains Ruth Muthoni, 60, one of the pioneers who reveals that the area was bushy, forcing them to sell cheaply.
"More buyers were directed to us and told that there were foolish traders up there selling foodstuff at throwaway prices. With time, our presence was known in Rongai and Kiserian areas," she adds.
 "Even now, our prices are lower with between Sh5 and Sh10. What we sell is worth every cent in terms of size, unlike in Muthurwa and other city markets where for the same price, you'll get smaller bunches or fewer purchases, particularly tomatoes, cabbages and sukuma wiki" says Muthoni.
John Mutua, 43, and a trader, says their produce is sourced from nearby markets with over 3,000 traders serving Langáta, Karen, Rongai and Kiserian.