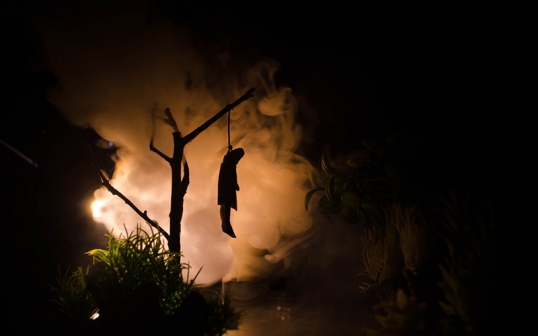 In every 100,000 people who die in Kenya annually 3,000 of these are suicides
Suicide is treated as a crime in Kenya and one could be jailed for a term not exceeding two years
In May 27 this year, Peter Gichira, a presidential candidate tried to jump from a building after his bid to run for president was rejected. He was among eight candidates who failed to meet the criteria to contest the 8 August election.
Two officers rescued and arrested Mr Gichira after he broke a window pane and attempted to jump out of Anniversary Towers.
In September 25, a Nandi county procurement officer committed suicide after Governor Stephen Sang ordered investigations into corruption allegations. Kevines Kemboi's body was found dangling from a tree at his home near Namgoi market on Sunday.
Two days later, a university student was arrested by police for attempting to commit suicide inside a bank where he worked as an intern. The 23-year-old University of Nairobi engineering student is said to have tried to take his life by setting his work station ablaze inside the banking hall on a Monday morning.
The student, who works as a teller, is reported to have poured petrol on furniture and documents inside his booth and set them on fire.
Preliminary findings revealed he was under investigation by the bank for suspected fraud involving Sh200,000 transferred from a customer's account to his personal account on September 23, 2017.
Suicide cases are first becoming a permanent fixture in Kenya; a week hardly passes without an incident.
According to an article published in The Standard in 2015, in every 100,000 people who die in Kenya annually 3,000 of these are suicides.
The World Health Organisation (WHO), state suicide as the second leading cause of death among 15-29 year olds, adding that 78 per cent of suicide-related deaths in 2015 occurred in low and middle- income countries.
An American publication, My Health Magazine, quotes a study published in 2012, where over 70 per cent of 458 patients admitted to Kenyatta National Hospital were reported to have intentionally ingested poison: these were between 21 and 30 years of age, and most were said to have been grappling with relationship problems.
And if you didn't know, suicide is treated as a crime in Kenya. It is a misdemeanour, and if found guilty, jail beckons for a term not exceeding two years, thus there may be many unreported cases of successful and attempted acts.
According to Diani Machi, a practicing psychologist, "There are two peak ages in suicide cases: among young adults and the elderly. More women attempt suicide, but more men complete the act. Men are also more likely to engage in methods that are most lethal, for example, shotgun to the head or chest. Other methods of committing suicide include hanging, use of explosives, setting oneself on fire, jumping from a high building, car crash and cyanide poisoning." Writes Machi in an article, for The Star.
"In recognising signs of suicide, look out for individuals talking or thinking about death all the time, or signs of depression, such as deep sadness, trouble sleeping and eating or having a "death wish", as evidenced by taking risks that could lead to death, such as driving fast.
Other signs include feeling hopeless, helpless or worthless, putting affairs in order, such as changing a Will, and sudden, unexpected switches from being very sad to being very calm or appearing to be happy. Also suggestive are talking about suicide or killing oneself, visiting or calling people to say goodbye, and selling off or giving out one's most valuable possessions."
Any suicidal thoughts or behaviour should be taken seriously and addressed as soon as possible. Anyone who suspects a family member or friend wants to commit suicide should seek help and call the crisis line.
In Kenya, you could call LVCT Health on 1190 for free. Hospitalisation is highly recommended for suicide attempters. It is the first line of treatment to prevent further harm to individuals, and is necessary even if it's against their will, until they are stable and aware of what's going on."