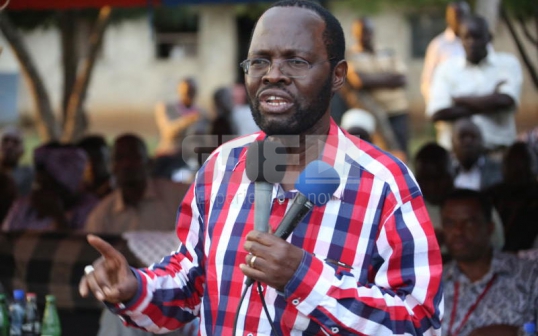 Governor Anyang' Nyong'o has hit the road running with a 10-point development plan for Kisumu County
An earlier TV interview transcribed by James Mwangi gives a glimpse of what Kenyans can expect from Baba Lupita
Your manifesto was dismissed as full of wonderful theories. What practical steps will you take to create employment in Kisumu County?
I will put women and youth at the centre of inclusive development with clear plans to revitalise agriculture and agribusiness. That is an action and not theory.
I will ensure a healthy population living in a clean environment, build modern physical infrastructure.
I will also promote skilled development and innovation, opening the Kisumu waterfront for business. This was in the Lake Kisumu Urban Project supposed to have been implemented from 2012 to 2016 but nothing was done.
I will also provide decent housing inclusive towns, semi-urban centres and villages. Our markets are peri-urban but the environment is terrible. No water, toilets or solid waste management in place.
Other contestants also spoke about improving the lives for Kisumu people and increasing employment. What makes you different?
In creating employment, we have concrete proposals like establishing Kisumu County roads maintenance teams of young men and women who will maintain these roads rather than waiting until they break down and then bring in a contractor three years later to be paid a huge sum of money to do the job.
The Kisumu County government was allocated Sh6.9 billion this financial year. Annually, it collects Sh1 billion. Isn't that too little to fund all these projects?
That is not little money. For instance, if you go to Kakamega, you will find Governor Wycliffe Oparanya building roads, creating proper sewerage and water supply and is putting up a Sh6 billion hospital.
He has made sure there are modern kiosks and women who give birth in hospital are given Sh2,000. In Siaya, Governor Cornel Rasanga is paying Nyamerwa women Sh3,000 a month, has given them NHIF cards and is also subsiding tractor costs for ploughing their farms.
It depends on whether you cut wastages and maximise productivity. In Kisumu, there was too much wastage.
I also intend to improve collection revenue from the current Sh800 million to Sh2.5 billion so there will be money for these developments.
When Meru Governor Peter Munya started, he was collecting Sh600 million but the county was collecting Sh2.5 billion a year by the time he left office.
How do you plan to improve revenue collection to fund the proposed projects?
The first thing is to establish an implementation programme to implement our manifesto based on money we have for development.
Then focus on asset recovery and if county employees or governor have taken money from the county their assets will be seized, sold and the recovered money used for development.
We'll also automate revenue collection. Our income will quadruple.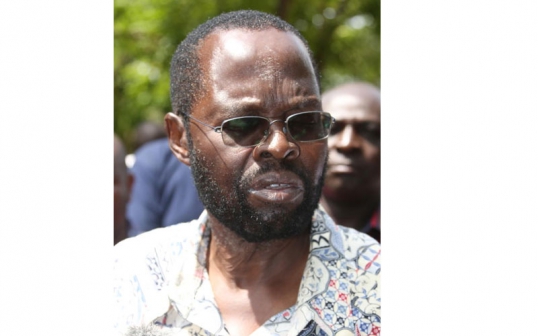 Is it fear of violence that is scaring away investors from Kisumu?
It is not violence and here we must not think of investors as just people coming from outside. We are the investors. The responsibility of the government is to create an enabling environment for these investors to make money and to be more productive.
Like the youths said to be violent, if we create jobs for them, they will have no time to be violent.
How do you explain the fact that there are many places in Kenya with higher unemployment but youths there are not as violent or vicious as the ones in Kisumu?
You have to do a lot of research to correlate places where there is high poverty or unemployment and no violence.
I can take random samples of counties and find incidences of violence which are more vicious than Kisumu.
We can't make a dogmatic statement that violence scares away investors. We need working government with good governance, good land laws and land regulation.
Land is the issue in Kisumu. You and I fear investing in Kisumu city because the land regime is awful. If you try to invest here, three people will turn up with title deeds.
How do you plan to deal with the standoff between the county government and French Development Agency on Kisumu garbage?
It was not a standoff but a deliberate move by the Kisumu government not to do what was supposed to be done under the Kisumu Urban project. That 'Mt Ranguma' was supposed to be relocated and the Kisumu government was supposed to fund it.
They bought land 27 kilometres from the city in Muhoroni but they did not relocate it there. The excuse given is that people objected. A study done gave four other sites from which the county government could choose. They preferred that one for rent seeking and corruption.
We will need village councils to run effective waste management to organise collection of that waste.
My plans are also to do away with pit latrines in Kisumu because they are an environmental disaster waiting to happen.
You speak about irrigation and opening the lake front for business. There is a basic problem of water in Kisumu city. What is the plan?
About 54 per cent of Kisumu County people are using improved sources of water. For quite some time, we were favoured to have NGOs in the water sector and CDF came along later.
But we need to improve on what we have through bore holing which is much cheaper. One borehole can cover an entire village if properly done. I intend to partner with Vihiga County and tap into their huge water project being financed by Belgian government to supply to nearby towns.
You talk about five-member village councils. How will it strengthen devolution?
We must have a devolved system of governance up to the village level. In the Constitution and County Government Act the foundation of devolution is a village council.
County government has noting in the grassroot which means devolution is not founded properly in this county.
It has to be done as it provides structure of participation. Kisumu County cannot be governed from the office of governor.
There must be a city management board and a city manager. That is why Kisumu city is dirty because the Governor cannot clean the city by himself. He doesn't have an institution to do it.