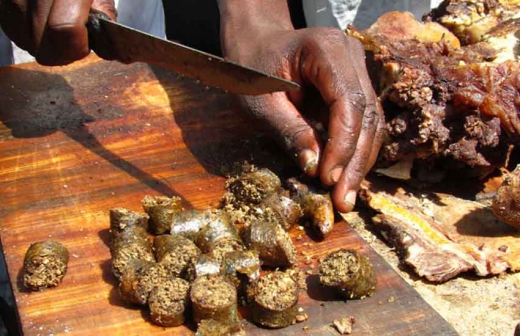 The kipindupindu outbreak has hit the local hard
Diehard customers of kichwa mbuzi chemsha  are avoiding mutura in fear of  kipindupindu
Business is hard at the local
The cholera outbreak has hit the local hard. The first loser is Waka-Knife, the butcher, who used to brag that he sells mutura, which was among the few open-air edibles not sold in supermarkets.
That was until some enterprising Kenyans began supplying supermarkets with ready-to-swallow mutura, eating away at the women customers of Waka-Knife.
Women who love mutura but pretend they don't nibble at vitu za streets now prefer buying mutura alongside their domestic shopping.
The confines of the supermarket provides some posh cover for tearing into mutura without turning their cornrowed heads to check who is watching.
Waka-Knife has really missed the spectacle of watching chicks from the hood ordering mutura, like its rat poison, but still chewing at it and in the end, blackening their manicured red-polished nails.
Some not wishing to appear like walafi avoid bargaining or ordering a second helping and instead instruct, "Funga takeaway," which comes in handy during supper starring ugali and sukuma bila nyama at home.
But the outbreak of cholera has ruined the party. Nowadays, even diehard customers of kichwa mbuzi chemsha like Kang'ethe "wana kula kwa macho" to avoid kipindupindu.
The loser is Waka-Knife who is left staring at a heap of mutura, ulimi, roho, mara and endless rows of sooty goat heads on his smoky wire mesh.
The local has also witnessed escalating water bills after Fr Gakombe returned to Wa-Hannah's with his usual demands that his beer bottles be washed. But because of cholera, Man-Man, the barman, has been issued with a raft of instructions, among them that the washing be done with hot water and soap and the bottle let to dry inside the fridge first before it is hissed open.
Now, all drunkards are copying Fr Gakombe and Man-Man has been spending considerable time at the sink washing beer bottles, wiping them with white hand towels washed with disinfectants.
Karembo, the resident hooker who swears she will hike lungula prices largely due to the biting "baridi ya July" and also because "hatujui elections zitaendaje," now comes with her own wet wipes with which she cleans her bottles of the Liquid Panty Removers, which she has been drinking in twos while waiting for single customers.