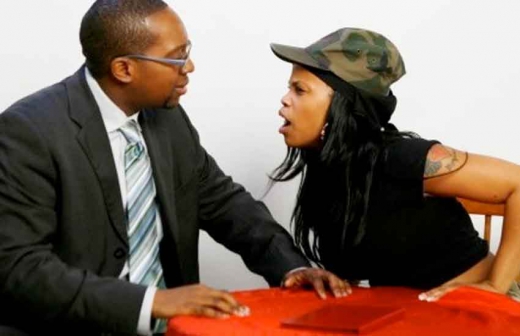 Nairobi city dwellers are not only a peculiar lot but also very predictable beings. Every day at 5 pm, like clockwork, they rush out of their workplaces, to join long matatu queues to head home.
The ones who drive, will all dive into the swelling traffic as if their offices just caught fire.
But why exactly are Kenyans always in a hurry, The Nairobian team asked? And this was the feedback from readers.
1. Mpango wa kando time
Many married men - and currently a high number of married women - use the period between 5-8 pm to engage in extra marital sex. Please, ask yourself why your wife leaves the office at 5 pm only to arrive home three hours later, complaining of heavy traffic and exhaustion, yet she is glowing like a tail light?
2. Sister lets pray
For believers, prayers work. and there is no better time to pray than this. Thereafter, they go home to confront their demons the entire night. That is why evening church services are packed with believers.
Remember, even Inspector General's best friend, who is also a pastor, was attacked one evening a few months back in Kibera, coming from a prayer meeting, which the IG himself was part of.
3. Side hustles
There is a man who works as a clerk in Nyayo House. After spending a good part of the day collecting bribes from Kenyans who need their identity cards, he still goes to Uhuru Highway to sell DVDs and assorted car accessories. Money, my friends, is never enough.
4. Ngumbaru school
A few friends from Tanzania visited recently. According to journalist Kiundu Waweru, after spending the whole day in seminars, the Tanzanians expected their hosts to take them out for pints.
But Kenyans rushed out of the hotel till the next morning. Perplexed, the Tanzanians asked, "You people are so mean with your time, you never want to take us out to enjoy Nairobi nightlife. Where do you usually go in the evenings?" In unison, all the six Kenyans replied, "We go to class."
5. Sirkal ya bibi
A story is told of a man who loves his drink and often invited his wife to join him in the evenings. Two bottles later, he would say, "Nunua chakula uende kwa nyumba ukae na watoto (Buy food and go home to the children)."
 Like all obedient wives, she would obey. But tables were turned when the man lost his job, and as they say, karma is a bitch, the woman's mitumba business flourished. She would call the man for a few drinks, and after two bottles, give him money and politely ask him, "Si uende nyumbani ukae na watoto (Why don't you go home to the children?)."
6. Cuando seas Mia
Paloma is a housemaid who loves Sergio. Margarita is engaged to Sergio. Elizondo is Sergios father. Rodrigo is Margarita's brother, he raped Paloma. Claudia is Elizondos' wife and mother to Sergio.
Evangelina is Elizondo's mistress, she is also Paloma's mother. Now sit down and over six months and 104 episodes, watch Paloma fall in love with her brother, avenge being raped by Rodrigo and deal with her wicked step-mother. That's reason enough to rush home.
7. Mtaani ni kunoma jo!
Some Nairobians live in neighbourhoods where only madmen, prostitutes, police, and thieves walk in the streets past 9 pm. That is reason enough to go home early.
8. My babies, my babies
Most new parents obsess over their children, like a cow that hasn't been milked the whole day. They rush home to dote over 'kababa and kamama' their little prince and princess.
The tots can do no wrong in their eyes, and if you visit the house, they will demand to play with your iPhone 6, and if you refuse, they will scratch, bite and scream at you. Their parent, will look on adoringly, and say, "She is very independent minded." She is a go-getter, her mother would add.
9. Mzee in the house alone with the mboch? Never!
A few women we talked to admitted they would rather be home when their husbands get to the house.
The thought of baba watoto alone in the house with the fresh house help from the village can drive a woman crazy. Yet, the house cannot do without the help. That's what you call being caught between a rock, and a hard place.
10. The mlevi type
There are men who order for nyama choma, tumbukiza or fry, in their local pub in Utawala, when they are still in town. They will then rush to pick a matatu, spend two hours in traffic, while their meal is feasted on by flies.