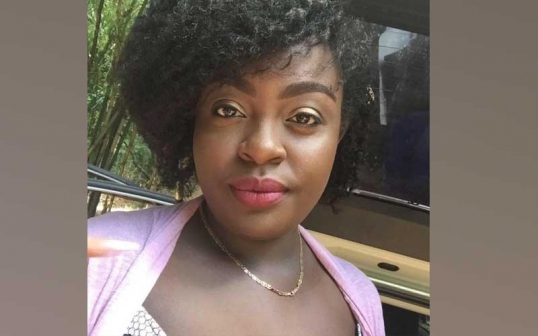 Last year you claimed to have been battered by your boyfriend Gabriel Gathuka Kagombe. But he denied the allegations and added that the two of you are not in a relationship. What is the status?
This is matter is still in court, so I would not want to get into the specifics of the assault. It nearly broke me, especially coming from someone who was so close and trusted.
I really don't know what would motivate a person to issue that kind of denial, especially when there is a child involved. But those are not my demons to wrestle with. He must have had his reasons.
I have moved on with God's abiding grace and my daughter and I are in good hands.
Are you still friends with Gathuka?
No. Something always has to go before something much better can take its place.
Did you ever raise the red flag that the much-hyped youth economic empowerment programme had turned into a conduit for enriching a few well-connected individuals?
I was too busy working. In any case, the nature of a thief is that he will sneak in at night, steal and sneak out when nobody is looking. Corruption in government as anywhere else happens in pretty much the same way.
Many times, unless you are a trained auditor and interact closely and regularly with departments such as finance, procurement and accounts, you will not know what's going on until you see the facts. That is why systems are important. We need fail-safe mechanisms which can flag problems.
It is claimed that powerful individuals were the ones calling the shots as they executed the theft...
I don't know anything about that. The records are there with the various agencies that looked into the matter.
Was your former boss, Anne Waiguru, culpable for the money lost at NYS?
I believe the statutory bodies mandated to look into these issues are doing their job. Should they find that someone has a case to answer, then the due process will be followed.
What I can say of my former boss is that she is hardworking and passionate about youth empowerment. I wish her success in Kirinyaga.
Have things stabilised at the ministry after financial scam was exposed and exit of Waiguru?
Government, as you may know, is perpetual and unless under extreme circumstances such as war, it is always stable. No single individual's entry or exit can stabilise or destabilise a government institution.
It is a system and there is always someone to pick up from where someone left. Even during the disproportionate media blitz that accompanied the revelations, all of us in the then Ministry of Devolution and Planning were going on with our daily duties.
You were in the news in 2013 after you went to court to oppose the nomination of Naisula Lesuuda as TNA senator. What was the motivation, yet she was a young woman like you?
I had nothing against Hon. Naisula Lesuuda. She is a lovely Kenyan from Samburu. My fight was with IEBC, whom I felt had profiled me ethnically, disenfranchised me without as much the courtesy of notify me.
They did not consider what had merited me to be placed at position three in the TNA Senate list after Hon. Beth Mugo and Emma Mbura. TNA got four nomination slots.
They gazetted number one and two, skipped my name, and gazetted number four (Hon Joy Gwendo), and then number five in my place, who just happened to be Lesuuda.
But all this is water under the bridge now. There is more than one way to serve and I have been honoured to do so in the executive.
You were actively involved in the formation of defunct The National Alliance (TNA) party. What was your specific role?
It was humbling to be part of the team that conceptualised the party, its symbol, message tag line, launch and many other things. It is a role I was greatly honoured to play.
I was member number seven of our great party, which has morphed into an even greater Jubilee Party to unify the whole country. I was a party official and member of the National Oversight Board (NOB) as Secretary for Education, and later, as one of the two deputy secretaries general of TNA.
TNA promised to reward the youth appropriately. But once Uhuru Kenyatta and William Ruto ascended to power, most key appointments went to the elderly. Were the youth duped?
The president and his deputy have been faithful to the youth. First, you will recall that the Sh6 billion saved from an election run-off was channelled to the UWEZO Fund, which has benefitted more than 20,000 youth groups, women and people with disability (PWDs).
Second, youth empowerment has received some of the highest budgetary allocations under this administration than in any other government since independence. This funding has gone on to benefit over one million individual youth directly through the Youth Enterprise Development Fund (YEDF), NYS and other programmes.
On appointments, I believe this has been the most progressive government yet. One of the PSs was appointed within the age bracket of 35, there are ambassadors, board members and chairpersons, parastatal chiefs and heads of vital secretariats such as Huduma Centre headed by brilliant young men and women, which was unheard of in the past.
Everything must start somewhere. Systems are hard to change, but the foundation is now set and things can only get better.
Apart from the corruption-riddled NYS youth empowered programme, can you enumerate other milestone socio-economic initiatives targeting the youth?
First of all, NYS is not corruption riddled. A few bad people did a few bad things, and that does not seal the fate of an institution as robust as the National Youth Service.
The service has received more than Sh50 billion in funding since 2013. Ninety-eight per cent of that money has been put to good use, which is why we now have over 50,000 servicemen and women trained within three years and nearly 100,000 community youth empowered across 150 constituencies as they undertake nation building activities.
These youths are now organised into more than 400 Saccos, with cumulative savings of about Sh1.8 billion.
In addition to NYS, there is YEDF, Women Enterprise Fund (WEF) and UWEZO, which avail interest-free/affordable credit to hundreds of thousands of young traders, Presidential Digital Talent Programme which targets IT graduates, the Ajira Digital Programme which is empowering young people to do online work, the Greatness United Programme (G-United) which is a one-year national volunteering programme for graduates geared towards enhancing cohesion.
As an adviser at the Ministry of Public Service, Youth and Gender Affairs, have you effectively pushed for the youth agenda?
I believe I have been effective, mostly because we have a leadership that resonates intuitively with the youth agenda.
Those of us in the space don't have to push too hard and often times, we are really just following the lead of the president, his deputy and my boss, the Cabinet Secretary, Sicily Kariuki.
Together with the team of dedicated civil servants, we accomplished a lot, but I will isolate three for now: I am proud of what has been accomplished through NYS.
I was part of the team that oversaw the roll out of the Youth Empowerment Programme which started in Kibera and now has presence in over 170 constituencies in Kenya.
One of my fondest moments is when a 1.7-kilometre bitumen/tarmac road that cuts across Kibera was built within two months, through acute terrain challenges in a rainy season. Sometimes I take a drive over there for inspiration and to remind myself that anything is possible.
I am also very proud of having, together with a small team, spearheaded the design of one of the most robust and dynamic youth projects in Kenya, the Youth Employment and Opportunities Project.
The ongoing campaigns have exposed the youth as still being agents of violence. Despite advocacy and awareness programmes, why are they not keen on shunning violence?
Young people involved in political violence are in the extreme minority. Given that we are a country with approximately 15 million youth, I'd say a majority are fairly peaceful, otherwise we wouldn't have peace anywhere.
The few who are caught up in the vice are mainly susceptible to manipulation and misuse by politicians due to economic vulnerability. The economic empowerment of young people will continue to dominate government policy for the foreseeable future and hopefully, this vice will be eliminated in our society.
Do you believe the youth will have a huge influence in the next government?
I believe they will. Already, you can see the profile of candidates running for office to occupy the legislature both at the national level and in the counties.
We are likely to see more youth-responsive policies and laws coming through as well as greater allocations to youth programmes, especially at the counties.
These are the same leaders who will vet nominees to county executive committees and the Cabinet. They are likely to view youthful nominees favourably. Jubilee commitments on youth are also very bold, which also places the youth at a vantage point as they have the support of the president.