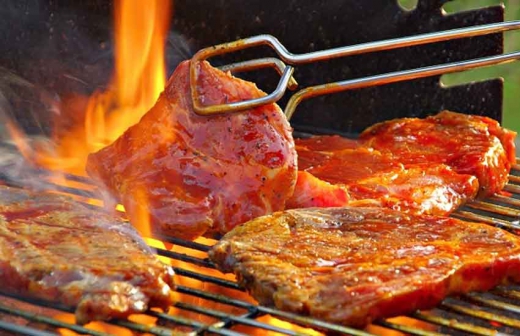 Waka-Knife, the lifetime butcher at the local, recently released his 'meat-festo' in the face of the August General Election.
His verbal manifesto, he argues, will dictate "vile mta ni jenga" and not necessarily in reference to his mutura size biceps.
The meat-festo of Waka-Knife is threefold: There is social welfare, individual welfare and social justice.
 
Under social welfare, Waka-Knife has vowed to lobby for the local to get rid of the in-house cat which has the habit of staring down at patrons every time he's cutting ribs, serving kichwa or slicing the red pilipili from Kinangop on the discoloured mbao that was bought from a hawker during the 2010 World Cup.
The cat, nicknamed 'Kalonzo' because "huwa inapita katikati yetu kwa bar" has been a nuisance as hungry patrons have to kick its kahasho for it to meow away.
Kang'ethe laments that it's also very choosy as it never lifts its whiskers up in a begging position when he's busy raruaring his kichwa chemsha.
 It is therefore allergic to 'white meat' but odd enough, rarely bothers with eliminating bar rats after "kushiba tumbukiza."
Under individual welfare, the meat-festo will see patrons paying for kachumbari with every form of meat bought from the wire mesh from where the lifetime butcher has been burning his fingers in the last three elections.
The kashubari, as Waka-Knife calls it, will comprise onions, nyaya, avocado (which he calls ovacado), dania and pilipili ya umbali as part of his efforts to ensure that drunkards add vital vitamins which they will need to recuperate after ruining their collective livers.
The aforementioned kashubari will also be served with mutura, roho, ulimi, mara, spleen, figo, hooves and goat testicles.
Under social justice, the meat-festo dictates that Waka-Knife will wash the hands of anyone near the mbao of meat irrespective of who bought it.
 This will go a long way in preventing people like 'Man-Man,' the barman, from being excluded from dietary democracy, thus saving him the vagaries of drinking makali on an empty stomach.
Social justice will also see those, like Diameter, who buys quarter kilos ni kama ni ya kutega panya combining it with those, like Owish, who often order for kilo tatu kwenda juu, to even out 'economic apartheid.'