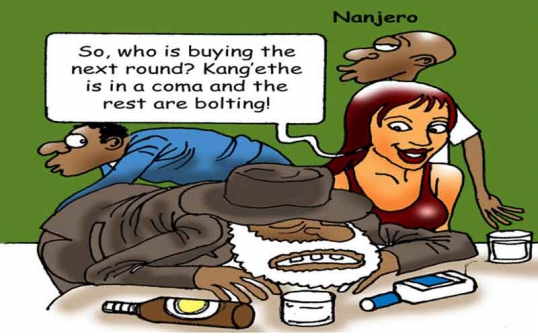 Man-Man, the new barman at the local, as you know by now, was deported from the US of A by nabobs in Donald Trump's government. After more than 30 years abroad, Man-Man sadly returned with nothing besides a pair of dirty jeans, a box guitar, hand luggage and an accent.
Man-Man uses the box guitar to belt out country music. Some sots like Kang'ethe stress Man-Man by demanding to dish out as much as Sh10,000 if he can sing a few choice mugithi songs.
Owish demands for ohangla.Mugithi and ohangla were not even rumours when Man-Man left Kisii for Minnesota, from where he returned "kama amesota mbaya!" as Karembo, the resident hooker at the local, never tires of mouthing.
While Man-Man was away, nothing changed much in the variegated methods Kenyans employ to escape throwing a round. Indeed, regulars at the local are a study in how not to buy a drink while ensuring you ruin the liver at another sucker's expense
Kang'ethe: He pretends to be in one of those coma-like slumbers. Even when Diameter slams his mango head against the hard wood counter to buy his round, the 'old metal' at Wa-Hannah's looks like 'he'd rather die...'
Owish: 'Jakom' receives an imaginary phone call, shouting at the caller, "You're calling from London? Sema, mtu wangu!" as he walks out, only return two weeks later lying that, "I was out of town...Ngamia One, Turkana...mambo na oil!"
Diameter: The political analyst will ask about your preferred presidential candidate and upon hearing your answer, walks out in anger arguing, "Vile hata sina pesa, huyo atatusaidiaje?"
Kot-Kot: Goes to the toilet when his turn comes and stays there so long Miss Penny, the owner of the local wonders "Kwani ameanguka choo?" by which time someone else throws the round...
Papa English: He has this tabia of removing coins and while counting them, asks, "Nani ataniongezea we continue drinking?"
Waka-Knife: The butcher skives buying by proposing, "Nitanunua nyama, mnunue pombe." But his quarter-kilo is made to fill the sinia via adding 10 cabbages, a gunia of warus and 100 red pili pilis, which cost him Sh500 before he goes ahead to drink Sh1,500 worth of alcohol!