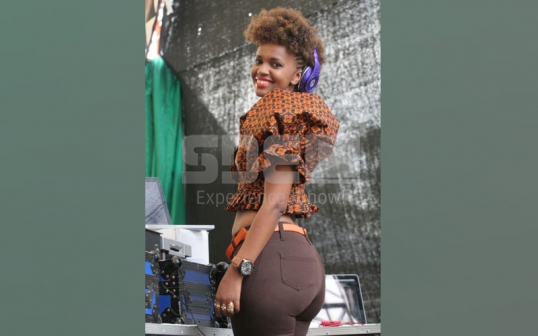 You have made a name for yourself as a DJ, an industry that was once male-dominated. How did you make this happen?
I had my big break three years ago when I got my first international gig. I was invited to perform at the Nigerian Entertainment Awards in New York.
I joined the industry in 2010. Growing up, I was not sure I wanted to be a DJ, but I always had this special pull. Whenever I watched a DJ performing, I was drawn to the decks.
It got to a point where I would go around clubs specifically just to watch DJs do their thing.
Did you study deejaying?
No. I learnt by observing others and from friends who were already in the industry. I have since made a name for myself and charge between Sh50,000 and 500,000 for events.
You are also an actress...
I was first an actress before I became a DJ. In fact, I got into the Kenyan TV and film industry right out of high school. While at Chogoria Girls High School, I was very active in drama festivals, and the exposure landed me roles on Kisulisuli and Tausi on KBC. 
Later, I got the chance to play the role of Jean Joyce on Tahidi High. Tahidi High was a concept that had never been done on local TV and it was a big hit.
My role as Jean Joyce made me a star locally, and then when I got the role on Mnet's TV series Changes, it made me an international star.
You have also featured in a Nigerian film. How was the experience?
I landed a role in the Nigerian film, Love Comes Around, and acted alongside Jim Iyke. The role won me the Best Supporting Actress at the annual Nollywood 2015 African Film Critics' Awards, which were held annually in Los Angeles.
In the film, I play the character of Didi, a woman desperate to find love. Last year, I got to act in a Gabon movie called Who Killed Judge Dunia Kafir? I play the character Dunia Kafir; a 28-year-old bright judge who has the courage to dig into the files of Françafrique mafia that killed her mother 15 years earlier. She wants justice for her mum.
 You have a morning show. Does that mean you are planning on quitting deejaying?
I host the morning show on Y254, a state-owned TV channel. I have been doing it for about six months now and I am really enjoying the experience. It is a different type of breakfast show because we provide a platform for creatives all over Kenya.
We do not discriminate; we tell the stories of people who are rejected by mainstream channels. We deal with people in mashinani. We also have a segment where we bring student leaders and give them a chance to question politicians; it is a very enlightening show.
Being in the limelight, I am sure you have had rumours about yourself. Which has been the most ridiculous?
That I am dating Jimnah Mbaru. At first, I thought it was very funny, but it quickly dawned on me that he is a husband and father of someone and so it cannot be funny.
It is tragic that someone can sit down and come up with such a lie.
How is motherhood?
Amazing! Like any mother, I put on weight when I was pregnant but I am not putting pressure on myself to lose the weight. I can't do heavy exercises because of back problems, I had a long labour.
For now, I will enjoy my new body. I like my new butt and boobs. I try to eat healthy and enjoy my baby; the baby weight will shed off on its own.
Are you dating or are you with the father of your daughter?
I never talk about my personal life. I do not believe talking about who I am dating or not will add any value to anyone's life!
Apart from the entertainment industry, you also work in the corporate world...
After Changes and Tahidi High, I got the chance to read news on then Hot 96 FM around 2005, which I think is now called Y FM.
After that, I left for Namibia, where I worked in TV and production for about two years and returned in 2010. When I returned, I worked at Scanad, where I worked in TV and production but because the work environment there is very versatile as you are exposed to everything, I was able to learn about account management and how to deal with clients.
So much so that when I left, I joined One FM where I was not only a radio host, but also the marketing and PR manager before returning to Scanad as a brand asset manager. However, I left to start my own company C3 which specialises in research, evaluation and production.