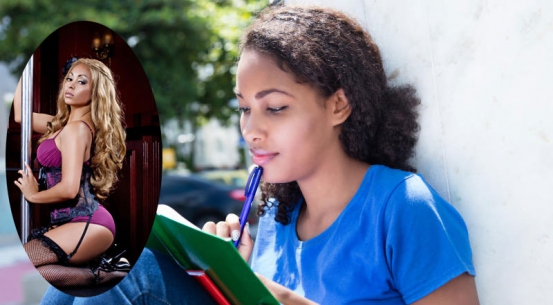 Two straight 'A' university students, one studying engineering, the other law, are night club strippers in downtown Nairobi where they have to be cautious lest their classmates, male lecturers and relatives, be in the audience.
There are among a growing list of campus girls eking a living in the most unlikely of quarters to pay college fees and 'live the life.'
Christine Wanja (not her real name) , the future engineer, is 20, but the Sh500,000 annual fee for her course is too high for her young shoulders now in second year at the School of Engineering.
Ciru Njue (not her real name), just 22 and still in first year at law school is riding the same financial boat as her tuition fee is Sh200,000 annually besides expenses on accommodation and books.
And both are unapologetic about being a student by day, a stripper by night since, although some strippers are high on bhang to entertain clients, for them it's just a job that sees them through college.
"We work hard, even if it is showing our bodies. We work hard. We are about our business," says Ciru, while Wanja argues that she sees herself as an entertainer because "When I'm dancing on the stage and it's athletic and artful, but I'm naked, and I'm naked for a reason."
The Higher Education Loans Board (Helb) can come to their rescue, but sometimes it's only 20 per cent of total fee, when is lucky to get it.
Every four days a week, Ciru takes a 30-minute walk to a strip club in Nairobi's River Road, where she performs a few kilometres from her hostel.
So does Wanja who says "I always get comments from clients saying that I don't belong in a place like that, some even offer to marry me and make me their kept woman, but the truth is, the amount of freedom I derive from paying my own bills can't be bought."
Ciru says her stripping hustle nets her "around Sh5000 and on a good night, I can make up to Sh10,000" after randy men are taken in by her innocent looks and dish out hefty tips. "I think it is more of a way of getting rid of their guilt," she quips.
In a month, both Ciru and Wanja pocket Sh80,000 tax free income in a month. Sleeping with a client and performing their fantasies accounts for between Sh5,000 and Sh15,000 extra income and according to Ciru, half of the money goes to her college fee while the rest is what she refers to as "Walking Money".
But the two campus girls did not think life would turn out this way when they first came to Nairobi for college.
Wanja is the first born in a humble family from Machakos County. Her single mother is a teacher and after their father left this left "my mum to feed five of us from one pay check as a teacher" and joining campus meant she had to "work hard so I can help support the rest."
She landed in the city with only a suitcase but shortly realised Helb "covered part of my tuition and I had to sort the rest. My mum couldn't help so I tried getting a job as a waitress. When that did not work out my friend introduced me to the manager of a popular strip club in River Road who just looked at the size of my bum and I got hired on the spot."
From her side hustle, Wanja could afford a hostel, clothes and food and gradually, stripping in private parties saw her moving from her hostel to her own pad. Nonetheless, hazards of the job include being arrested by cops besides "stripping is considered as prostitution in Kenya so you get charged."
Her family has no idea she works about 20 hours a week. But she shares that she was once almost busted by her uncle.
"One of the patrons was hurling abuses at me demanding that I swing properly what my mama gave me only for him to later realise I was his niece. When we met face to face, he was so shocked, he just walked out. He never mentioned it to anyone because he would have to explain why a church elder was in a strip club anyway," she says.
Like most campus girls who don't strip, but have sponsors, both tried dating their parent's age mates which didn't work as some were too demanding, and tried treating them as a guinea pigs for erotic experiments.
 Gordon Olala, a sociologist from Kisii University, Migori campus said most students venture into stripping for the money but some – particularly those from middle-class backgrounds – were motivated by excitement.
"Many of these dancers are from middle-class backgrounds – they don't come from families where money is a big issue,"
Olala says fitting into the college social scene is not as easy. Balancing school work, social life and paying bills is a challenge to most of the campus students who end up as erotic dancers. The sociologist adds that many opt to keep their strippers identities private, using stage names for "work" and birth names for school.
"This way, they don't have to deal with judgmental friends, disappointed parents, or, worse, stalkers. It also means they can avoid having their sex worker identity become their "master status," explains Olala.