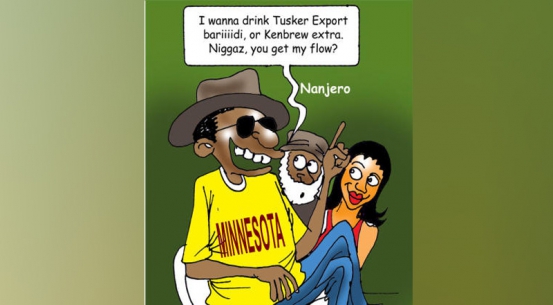 Life after party primaries has been spiced up by Kenyans deported from the US of A and some have found solace quaffing homespun onywaji at the local.
Nyambu, the counter girl, looks at one calling himself 'Man-Man Cool J' with heightened curiosity.
'Man-Man' left Kenya for further studies when Baba Gidi was still president and sots were drinking Tusker Export Kubwa.
 KTN was the only private television station and when 'Man-Man' was deported by hirelings of Donald Trump, he found himself at Jomo Kenyatta International Airport with nothing more than a twang and hand luggage.
'Man-Man' spoke through his nose and told Nyambu "I wanna have Export Kubwa baariiidi" and all she heard was that 'Man-Man' who was sporting a Godpapa hat, cowboy boots, jeans, dark sun glasses and a T-shirt emblazoned with Minnesota across the chest, was that he wanted "umbwa baridi."
Kang'ethe told 'Man-Man' that Tusker Export Kubwa went out of production before Kibaki became president and he sent the local into writhes of mirth by ordering for either Kenbrew or Castle Larger Milk Stout as Nyambu stared at him like a customer asking for condoms in a hardware shop.
Karembo, our resident hooker, was watching the proceedings with the interest of a local miller with connections to Mexican maize cartels.
"Huyu si ata angusha ma dollar tukienda short time?" asked Karembo criss-crossing her thighs to attract 'Cool J' who was then suffocating a cancer stick between his fingers.
'Man-Man' had taken a room at Raha Yangu Bar & Lodging and the receptionist there called Nyambu for a mucene session detailing among others things, that 'Man-Man' had hand luggage in his room comprising of two pairs of jean trousers, two Minnesota T-shirts and a ngotha, a credit card, but no M-Pesa or relatives.
'Man-Man' also had a guitar which he had brought to Wa-Hannah's and began playing Kenny Roger's Coward of the County and The Gambler requested by Kang'ethe who slotted Sh100 inside the glass containing Cool J's bar bill.
Papa English followed suit after requesting Don Williams', Maggy, the country song about the barmaid who never left the local. Surveying the proceedings, Karembo walked out mumbling, "Huyu ametoka Minnesota kama amesota!"