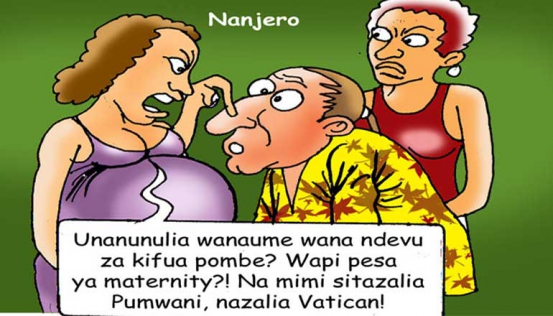 It is one thing to 'page' a woman, and quite another to put the counter girl in the family way at the local.
Papa English cannot still imagine that kurarua mashuka with Nyambu in the two weeks she holed up at his pad were enough to jaza her. Papa English only swills three standard lagers a day. And he rarely throws a round.
But the other day, he tried celebrating by toasting to Nyambu's pregnancy via throwing a helicopter round with unexpected results.
Being January, when there is a lot of month at the end of the money, meant everyone was singing him praises. Kang'ethe, who ordered his usual quarter bottle of 'Rotich' brandy na maji moto was not in the mood to drink tumbo wazi, considering he had registered a company named Wisdom Teeth Investments.
Kang'ethe, who brags of having come to Nairobi "ikuwa na choo moja ya Kanjo" asked Waka-Knife, the butcher, to "tengeneza kichwa mbuzi dry mzuuuuuri....na pilipili mbili za umbaaaali!"
Waka-Knife was fine with a bottle of Naps which he slapped on the palm of his right hand "kuitoa wazimu" and before Owish could order Johnnie Walker Gold Reserve, Nyambu interjected menacingly. "Una nunulia wanaume wana ndevu za kifua pombe, pesa ya maternity iko wapi?"
Papa English formed his mouth into an 'O' but even before he could say, "Imperial Bank," Nyambu mouthed that, "Mimi sitazalia Pumwani, I will deliver at the Vatican!"
Diameter, the political analyst, has never laughed so hard, seeing as it is, Vatican City has priests without wives. But hell has no fury like paging the bar girl where your long-suffering wife also ruins her liver. Even before the party got started, Sister Lucy, the wife of Papa English, 'legged' herself into the local.
Sister Lucy had not been seen around Wa-Hannah's since giving birth to a baby girl through 'Kiserian-Section.' She must have missed chewing her veve while sipping her Blue Moon vodka in between blowing plumes of smoke from her packet of Dunhill cancer sticks.
Sister Lucy caused such chaos, Karao Kiprop had to arrest her. She was shouting at Papa English: "Utafute kwa kulala leo!" Kiprop whispered to Papa English, "Buy me a crate of beer ulale kwangu!"
Related Topics