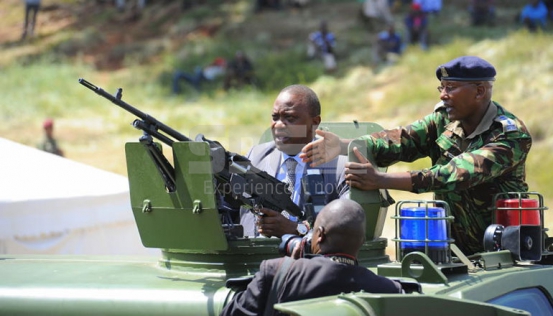 The journey to writing this article started with a post by Ciru Muriuki which was doing rounds on social media denouncing some toxic tribal jingoism reportedly broadcast by Kameme FM, a Gikuyu radio station which is part of Uhuru Kenyatta's family-owned Mediamax Network.
Ciru said: This one I have to speak on, and if I'm called a traitor, so be it. A certain vernacular station is running ads urging its listenership to register as voters en masse in order "kurangira uthamaki" (defend the kingship). What tribalist garbage is this? Shouldn't people register simply because it's their civic right?
Let me tell you...as a member of said community, I will not be defending any uthamaki because it's not mine. I'm a broke, job-hunting Kenyan. The only thing I should defend is my Wi-Fi password and my taxes from being looted. All else is folly. Ati kurangira uthamaki. Uyu akiri urimu. Pu! (Ati protecting the kingship, this is foolishness)!"
By then, I did not know what Cir?u was responding to until I saw it posted on another denunciation on the timeline of Cliff Van Cool, a follower of my blog. When I read it, my stomach turned!
It read:
"And? a ny??mba iit?, mwarekereria ?thamaki ?thi? mw?roreire o ma o ma. Mwareka r??r?r? r?tuny?kithio ?thamaki n? nd??r?r?? N? m??? and? aya n? matw?h?t?ire? Ta mw?yand?kithiei kwa ?ing? ndam?thaitha t?cookie ?huru t?rang?re ?thamaki na t?git?re r??r?r?"
This translates to:
"The people of the house (of M?umbi), would you let our kingdom be taken from us as you sit by and watch, really? You are letting leadership be snatched from us by alien tribes? Don't you know that these people have sworn (to finish us)? Register in large numbers as voters I beg you, to return Uhuru and secure the (Agikuyu) kingdom, and defend our tribe."
Mr President, this is madness. And Cir?u was being modest about it!
My considered opinion is that if you are a nationalist of any shade, you should cause the shutting down of Kameme FM. Yes. I said, shut down the damn thing! This, Mr President, is beyond the "sasa mnataka nifanye nini..." flip-of-the-hand impotence with which you have refused to engage the fight against corruption.
You can wave the Constitution at me, you can yell about rights and freedoms, you can claim that civil society will be at your neck, you can shout that your hands are tied; but you would be wrong. You are the President of the Republic of Kenya and a radio station is fanning the flames of genocide in your name.
I say, shut it down!
If you think this is a small matter, refer to any free documentaries online about the Rwanda genocide. Just Google or search "Rwanda Genocide" on YouTube.
Watch.
Let us talk about rights after you have finished watching. The genocide started with such madness. And yes, one of the biggest enablers of the tribal jingoism that caused and fuelled the genocide was radio. I do not know what foolishness, naivety or despondency makes us believe that we are immune to the madness that the Rwandans unleashed on themselves.
We are using the same formula. What makes us think that the result will be different? The buck stops with you. Stop this madness. Now!
Mr President, in every society, there are extremists. I remember growing up in the 1980s and early 1990s listening to Taarifa ya Habari on Ithaa ya Taifa. During the international news segment, they would often refer to a group they called, "makalasinga wenye siasa kali". It was their take on "Sikh extremists."
These were militant Khalistan separatists who were seeking an independent Sikh theocracy in the Punjab area of South Asia. For some reason, the Swahili rendering of extremism stuck with me. Extremists are called those "...wenye siasa kali".
They are everywhere in the world, and everywhere in this country. I have come across several of them in my blog.
But, the presidency and institutions of governance can never be held hostage, taken over or associated with makundi yenye siasa kali. For a million and one reasons, extremists, makundi yenye siasa kali, must always remain at the fringes of society, a safe distance from mainstream institutions and particularly the media. The sentiments expressed in Kameme FM in your name belong to Kikuyu extremists or Wakikuyu wenye siasa kali.
You cannot and should not allow this.
If you do, you will have unleashed in this country an epidemic of apocalyptic proportions. You can never achieve the balance needed to retain the society in equilibrium once societal institutions have been captured by makundi yenye siasa kali.
I know other tribes have extremists. All societies do. But as president, you are responsible for the whole of Kenya and therefore, you cannot be held hostage or turn a blind ear to the madness of an extremist group preaching tribal rubbish on radio in your name.
One of the greatest responsibilities that the Constitution gives to the office of the President is that he is "the symbol of national unity" (read Article 131 (e) of the Constitution). How can you be a "symbol of national unity" when Wakikuyu wenye siasa kali are spreading fear, hatred and warmongering in your name?
If you will be successful as a national unifier, you must deal ruthlessly and decisively with Wakikuyu wenye siasa kali from your own backyard first. Extremists are the greatest threat to the survival, not just of your presidency and legacy, but the very survival of the nation. Whether Kenya moves towards reconciliation and progress or towards conflagration and destruction depends largely on the containment of extremist views and groups like those in Kameme broadcasting ?uthamaki nonsense.
The writer is a professor of literature, blogger and commentator on socio-political issues. [email protected]