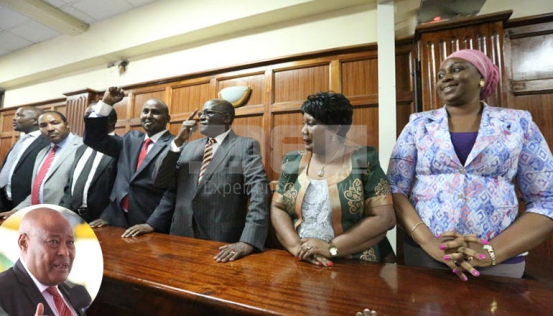 As the country heads to the next General Election, the reckless political rhetoric full of abuses, threats, and inciting remarks is on the rise.
It is all happening in a country where the President called the opposition leader "a mad man", a nation where an opposition MP called the President "very stupid", and a State where the most powerful politician in Parliament allegedly incited mass deportation of populations to keep away his opponents' voters.
The rhetoric is so bad, that in his New Year message, President Uhuru Kenyatta, complained.
"(These Politicians) have shouted insults in rallies and held the Presidency — which belongs to all Kenyans — in contempt," he said.
The trouble is that the politicians have mastered the game: They incite violence, abuse and threaten their opponents, when they are caught on tape, there's usually a public uproar that wakes up the rudderless National Cohesion and Integration Commission and the Directorate of Criminal Investigations.
The politicians are summoned; they record statements, sometimes the matters end up in court, and then there follows a loud silence as the slow wheels of justice spin, mounting legal pebbles of evidence and litigation boulders of witnesses.
At other times, the walk through the white façade and glass doors of the Directorate of Criminal Investigations headquarters in Nairobi's Kiambu Road "to record a statement" or for "grilling". Then the trail runs cold, for years.
The statistics show that at least a dozen political leaders have been caught in the hate speech imbroglio and of those, at least ten, have made that ritual journey to record statements at the DCI and have ended up in court. It is so bad, to an extent that there are now repeat suspects of alleged hate speech among them the foul-mouthed Moses Kuria (Gatundu South MP) and Ferdinand Waititu (Kabete).
The list of leaders who have landed in trouble because of fetid statements coming from their mouths include MPs Mishi Mboko, Johnstone Muthama, Moses Kuria, George Aladwa, Billow Kerrow, Governor Kabogo, Junet Mohammed, Kimani Ngunjiri, Ferdinand Waititu, Aisha Jumwa, Florence Mutua, Timothy Bosire.
The latest addition into that list is the Leader of Majority Party Aden Duale, who was forced to record a statement after a widely circulated audio clip caught him making nefarious remarks. He has since denied making those hateful remarks.
The law is very clear. If you do anything that is "threatening, abusive or insulting or involves the use of threatening, abusive or insulting words or behaviour" with the intention of stirring "ethnic hatred, or having regard to all the circumstances, ethnic hatred is likely to be stirred up" commits an offence of hate speech.
"Any person who commits an offence under this section shall be liable to a fine not exceeding one million shillings or to imprisonment for a term not exceeding three years or to both," reads the NCIC Act.