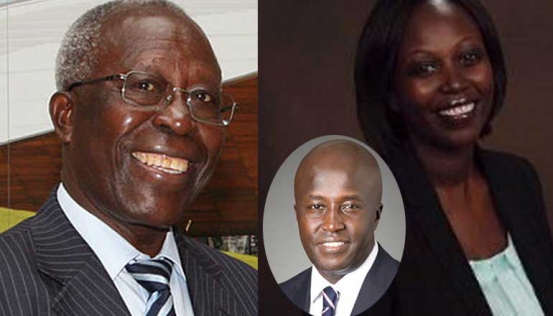 The Ongeri family has spawned a doctor, politician, professor, nurse, banker, dentist, chemist and an engineer. But the patriarch, Prof Sam Ongeri, is most famous.
Having two parents who were in the medical field meant that their children were early risers and being the first in school, habits some have carried to date, besides their grounding in the dogma of the Seventh Day Adventist church.
Prof Sam Ongeri: The Kenyan ambassador to the UN-Habitat has served as MP for Nyaribari Masaba, besides stints at the ministries of Foreign Affairs, Local Government and Education.
The alumnus of New Delhi and Bombay universities, India (Bsc in medicine), and University of London (diploma in child health), is a paediatrician who worked as a professor at the University of Nairobi School of Medicine before his political star saw him serve as Kenya's Permanent Representative to UNEP and chair of Athletics Kenya.
By the way, Prof Ongeri was noticed by retired Mzee Moi when he was part of the organising committee for the 1987 4th All-Africa Games.
That led to him getting presidential nods to Kenya Industrial Estates and Kenya National Trading Corporations, now defunct.
The member of the Royal College of Physicians (MRCP, UK) was chair of the University of Nairobi Council for three years to 1998. He lost the Kisii Senator's seat to Chris Obure in the 2013 General Election.
Elizabeth Ongeri: Wife of Prof Ongeri and one-time long-serving deputy nursing officer at Kenyatta National Hospital.
Caroline Ongeri: This trained engineer and one-time board member of the Institute of Education in Democracy, is the deputy MD at the Sh70 billion Lake Turkana Wind Power Project, Kenya's single largest private investment.
Nyagaka Ongeri: Said to be the most senior Kenyan banker on Wall Street, this career banker is the MD for Global Corporates at Barclays International, New York.
The alumnus of Nairobi's St Mary's School, Moi Forces Academy, Howard University, USA (BA, Finance) and Harvard Business School (MBA), is a philanthropist and board member of Amref Health Africa USA.
Dr Sylvia Ongeri: The alumnus of Loreto Convent, Valley Road; Baraton University and the University of Toronto, Canada, is a dentist at Kenyatta National Hospital.
Fiona Ongeri: The alumnus of Brighton University, UK (Bsc, Pharmaceutical and Chemical Science) and the University of Texas, Arlington (Ms. Chemistry) was a researcher in the USA, where she was Sequencing Team Manager, Baylor College of Medicine, before relocating to Kenya with her hubby, investment analyst Vincent Aberi.