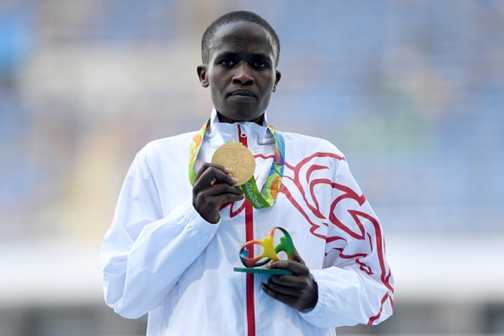 Ruth Jebet, the Kenyan-turned-Bahraini, is a brave young woman whose resilience and hard work shorn as she beat Kenyans in 3,000m steeplechase race at the Rio Olympics.
First things first. I met her for the first time at Kasarani Stadium during the National Secondary Schools games after she won the 10,000m race, and I asked where she comes from.
From my experience as a sports reporter, I could tell she was bursting with the sort of talent that could see Kenya win her first and so far elusive women's first 3,000m steeplechase Olympic gold medal. By and by, the girl kept maturing as a runner and producing good results till 2014 when she came to the IAAF World Junior Championships national trials at Nyayo National Stadium.
But by then, she looked disturbed and unsettled. She wanted to compete in the trials, but had not been entered in the start list. A former athlete requested officials to allow her to compete.
I was later informed that her mother had passed on, and funeral arrangements were underway. No one bothered to listen to her, or even attend her mother's burial. To my surprise, she was not allowed to compete by Athletics Kenya top brass. Understandably, that's when she began hatching a plot to change her nationality. And, as they say, the rest is history. She dramatically won the Olympic medal in Rio de Janeiro on Monday 15, leaving her former compatriots gasping in her wake.
Jebet's case is a highlight of the countless frustrations that force many a Kenyan athlete to switch nationalities. In fact, more than 30 Kenyan 'exports' are competing at the Rio Olympics now and many more, especially the upcoming ones, are itching to change nationalities at the drop of a hat.
The reality is that patriotism is a good thing, but it doesn't count for much in the face of disrespect — with no reward for the sweat, blood and tears that is national duty on the athletics track. It is no secret. Kenyan athletes are poorly rewarded, if at all.
Of course world beating stars head to State House, dine with the President and hand the national flag back to the commander-in-chief after a victory on the battle field. Those who win gold medals are promised Sh1m from the Government's cash reward scheme. Sadly, most times, that's where the story ends.
As we speak, some medalists from the 2011 World Championships in Daegu, South Korea, have not received their cash! I pitied Hon Wesley Korir, the 2012 Boston Marathon winner and MP for Cherangany, when he asked Sports Cabinet Secretary Dr Hassan Wario in Eldoret to consider clearing the unpaid cash. It was hilarious to hear the CS say, "Bring forward the names," as if the Ministry of Sports does not have the list of medalists.
Money aside, simple issues such as paying allowances on time and distributing facilities and running gear from kit sponsor, Nike Company, has been a major challenge for National Olympic Committee of Kenya (Nock). If you recall, Korir, who is the Team Kenya Captain, lamented that athletes received only a quarter of the kit shipped from Oregon, USA. The same thing happened in 2012 London Olympics. As usual, a committee was formed to investigate the mess, but their recommendations still gather dust on
Government shelves. Don't be surprised if the murmurs on how poorly the Rio team was handled will be dealt with in a similar fashion.
Deputy President William Ruto was personally in Rio, and it will be interesting to observe if he will rally government to deal ruthlessly with those who mistreat our athletes and bring dishonour to our Kenyan flag.
The writer is a senior sports reporter with The Standard. He is the 2012 Media Council of Kenya Sports Journalist of the Year.