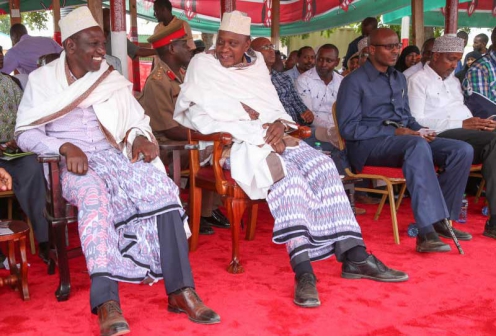 The Jubilee Party is a nice idea, but hopeless in a multi-ethnic and fledgling democracy.
The ambitions are too much. The greed for power is insatiable to tribal kingpins or their cronies. It will, therefore, take a lot of hope, brains and resources to keep the new party afloat.
What, pray, is the endgame in that decision to merge at least 14 political parties? The straight answer will be to gain power.
If you ask President Uhuru Kenyatta and his Deputy William Ruto, they will tell you that they need loyal troops, one centre of power and an army of foot soldiers so as to remain in power for two decades.
Thus, the party's 65-page Constitution seeks to create a single party, give out positions to everyone, and have as many people as possible peddling influence not just at the headquarters in Nairobi, but also at the grassroots – counties, wards and even at polling stations.
The party's Tuko pamoja' motto is an ambitious vision for 'real' national unity. You can't fault the effort. Kenyatta and Ruto have taken their special-purpose political vehicles, The National Alliance (TNA) and the United Republican Party (URP), and merged them.
Little known New Ford Kenya and other little known parties are standing on the line to join the new party. They want a seat at the table — to share the State largesse. In exchange, these parties will grant the Jubilee Party the "national outlook" that TNA and URP will never achieve if they hang separately.
In political terms, the single party will be shedding the dubious tag of tribal kingpins that Uhuru and Ruto have carried since they joined hands four years ago. Uhuru brought the Kikuyu and Ruto the Kalenjin. Now, all those ambitions will be housed under one roof. But still the question persist, how does the merging of two major tribes in a 42-tribe nation become "national unity"?
Wisdom has it that when you have two powerful, ambitious souls — bucks, bulls, cocks, rams — there is bound to be a fight.
While the personal chemistry between Uhuru and Ruto may be cohesive, their lieutenants will need a lot of convincing that this merger is a good thing. At their level they will share out positions, but then how will the party members exercise their democratic right to choose officials?
Some such as Kiraitu Murungi, the Meru Senator, are party leaders (Alliance Party of Kenya). Others hold influential positions such as party chairpersons ( Johnson Sakaja –TNA chairman) or majority leaders (Aden Duale – National Assembly, URP). It may be easy for Kiraitu to drop his ambition — APK is relatively a small party — but Sakaja and Duale may not be happy with the new arrangement.
Sakaja got his nomination to the National Assembly by virtue of being the chairman of TNA. Duale, got the Leader of Majority Party seat because of a pre-election coalition agreement between TNA and URP. Now, it will be one party, with 31 organs, negotiating with other players. What will Jubilee Party offer for the other party to join in?
The answer is in the JP Constitution. It says, "Post-election Coalition shall be purely for purposes of addressing the Parliamentary strength of the Jubilee Party in Parliament and or in the County Assemblies. "
So what will be on the table, should, Wiper Democratic Movement, or Amani National Congress, or even the Orange Democratic Movement come calling? Well, the seat of Majority Leader, of Speaker of either the National Assembly or the Senate, any of those. The power brokers right now are going to be losers when that time comes. If they can read the signs, they will be very afraid to take that step. They know it, and have been very cold towards that talk.
The other issue will be in picking candidates to battle it out with the Opposition at election time. Such a matter will be easy in Mount Kenya or in the North Rift where Uhuru and Ruto have a tight political stranglehold on the voters. But in cosmopolitan areas such as Nairobi, Nakuru or in towns where there are say, equal numbers of Ruto and Uhuru supporters, picking a candidate without one walking away will require convincing. The party will have to promise government jobs, because nomination slots are simply not enough.
Unlike in the past where the size of the Cabinet was indeterminate, and there were positions of the assistant minister and MPs could serve in Parliament and in the Cabinet, this time round, the President has only 22 Cabinet slots to dangle, and no slot for assistant minister. Plus, if he has to poach MPs, there will be by-elections and there's no guarantee that the parliamentary arithmetic will remain the same.
It really doesn't help when the law allows for independent candidates. If a popular candidate is rigged out, there will undoubtedly be a fallout at the grassroots, and that will deny the party the parliamentary numbers it so craves to ensure that it achieves its political goals without too much hassle.
When Kenya African National Union (Kanu) and the Kenya African Democratic Union (Kadu) merged after the surrender of Ronald Ngala on the floor of the House of Representatives in November 1964, many saw it as a good thing — that finally Africans were in one party. But two years later, the rift erupted with the emergence of Kanu 'A' and Kanu 'B'. It was all a game of succession, as to who would succeed Mzee Jomo Kenyatta.
People who are ideologically different can never be in the same political port unless their interests are threatened — we saw that when Uhuru and Ruto had cases at The Hague. Right now, they are free, and while there is only one de jure centre of power, there is an alternative de facto power-base around the Deputy President. That explains the uneasy relationship among the powerbrokers in both camps.
Alphonce Shiundu is a Nairobi based journalist and editor
Email: [email protected]