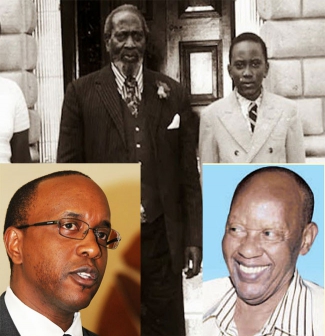 Harun Muturi Njee, one of the 10 children of Zipporah and Gordon Njee of Nyeri, was the quintessential home-spun entrepreneur.
He is synonymous with Mamba Village both in Mombasa and Nairobi besides his forays in gemstones and real estate developments that gave birth to Nairobi's Donholm, Tena and Golden Gate Estates.
Harun Muturi: The former Personal Assistant to founding President Mzee Jomo Kenyatta was a motor-mouthed business magnate who was almost shot by Jeremiah Kiereini, the former head of Civil Service and Secretary to the Cabinet, for saying things to the effect that Charles Njonjo, then Attorney General, was Kiereini's hubby!
Muturi's signature business is the Mamba Village, famous for its crocodiles. But again, he exported 'veblen' crocodile skins to Singapore via co-ownership with aquaculture expert Daniel Heller of Kilif based Nile Crocodiles Ltd. Founded in 1996, Nile Crocodiles was financed with a Sh34.2 million loan from the European Investment Bank. 'Meta Meta' bought the land. This was besides interests in gemstones through Meta Meta Africa Ltd and hence the nickname 'Meta Meta.'
Muturi's sister, Doris Nyambura, the first wife of populist Nyandarua North MP JM Kariuki, also had interests in mining. Muturi was executive director of Equator Films International through which he co-produced a music documentary film on Kenya with the BBC, its first such collaboration with an African firm south of the Sahara in 1977. Muturi was co-producer of the Sh10 million film, The Safari Rally, a 1978 'incoherent but comic" flick directed by Albert Thomas and starring Olga Bisera (Felicca in Bond film, The Spy Who Loved Me). That was besides promoting music legends, Boney M and Millie Jackson's tour of Kenya.
The happy-go-lucky party animal, who carried a gun under his Kenyatta leather jacket, succumbed to cancer in Mumbai, India in September 2010. The 74 year old left behind his widow, Dinah Kariuki, and several children including Kenya's Solicitor General, Njee Muturi. He was buried at the Lang'ata Cemetery, Nairobi.
Njee Muturi: He is Kenya's Solicitor General and accounting officer at the State Law Office.
The man who signs deals and international treaties and agreements on behalf of the republic was for 11 years the Personal Assistant to President Uhuru Kenyatta as well as Director of Coordination when Uhuru was Deputy Prime Minister.
The alumnus of St Mary's School (where Uhuru played rugby) and India's Poona University (LLB, 1992, Economic and Political Science, 1989) was Executive Director of Kanu. Uhuru's political confidant and the 'Mr Fix It' at the Presidency, is married to Natasha Gatabaki-Njee, the daughter of former Githunguri MP, Njehu Gatabaki.