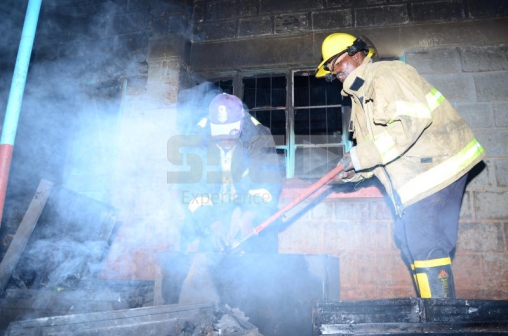 Our kids have gone crazy like as our politicians and they are torching school dormitories with the fury of al-Shabaab militia. As we speak, their long suffering parents will have to miss beer and cough Sh500 million to pay for the damage.
The Good Book proclaims that children should pay for sins of their forefathers. But we have a situation where parents are footing the bill, rightfully if you may, for neglecting to invest in a condom when the urge struck many years ago.
Now, I will not purport to offer solutions because I have none. Let me leave that to clever people, the experts on education who, unfortunately, seem to be as clueless as everyone else. What I know, based on my experience as an ignorant man who watches things around us, is what will not work.
First, the people saying we should re-introduce caning in schools don't know what they are talking about. Caning never left! Just because a dreamer in the education Ministry sent out a circular that caning is illegal doesn't mean teachers stopped wielding the big stick. As a matter of fact, some kids could actually be burning school dorms because their bums are on fire from caning.
Second, our problem is that parents, teachers and leaders are approaching this situation with a 1970s' mindset. They were raised to fear parents, teachers, policemen – everything. Growing up, they never asked questions, never talked back, never demanded anything and said "Thank you" when they were lucky to receive Sh20 pocket money.
When they messed at home, they got clobbered. When they messed in school, they got walloped. And when their parents heard they had been beaten in school, they hammered them like a snake.
In all the years they grew up, the first time they had the words "I love you" was when some teenage boy or girl smuggled a love letter via a cousin into their school bags. They never got hugged, never watched TV and woke up at the crack of dawn to milk cows and irrigate sukumawiki shambas. No one bought them gifts and they did not learn to walk on baby walkers. They were forced to walk by being exercised every morning in long, dewy grass.
During school holidays, they offered free child labour, hoeing farms, grazing goats, digging trenches, harvesting crops and carrying heavy stuff on their backs like slaves. Most of the time, apart from their school uniforms, and the games T-shirt, they didn't have another stitch to cover their backs.
But that is not how they raised their children. They hug them, congratulate them, listen to them, counsel them and rarely beat them. They feed them well, give them good pocket money and allow them to watch cartoons and bum on the sofa while the 'maid' does everything.
Now, if you attempt to manage these children of 2016 with the Gestapo tactics of the 1970s and 80s, you will be lucky if all they do is burn a dormitory. They will kill you! Parents, teachers and education officials have to grow up. Caning is a lazy relic of a bygone era. Deal with it.
www.tedmalanda.com