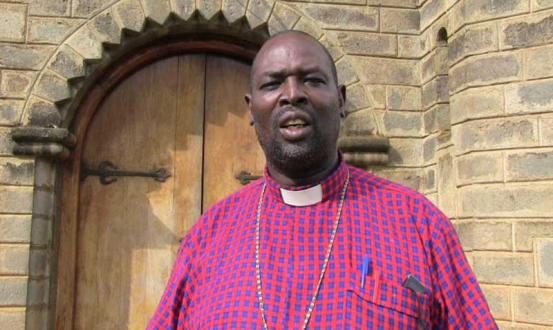 How did you end up as the sixth Anglican Church archbishop
Before the election, I was the Kericho diocese bishop for the last 12 years, four as the Suffragan bishop. Kericho diocese covers three counties (Kericho, Bomet and Narok) It has 22 parishes 117 local churches.
Before the election you were described in some quarters as reluctant candidate...
It was all media creation. They always mentioned me as footnote in their articles and got some facts wrong such as that I only led 10 parishes and was only concerned with community development in Narok and Transmara.
But I was doing my campaign quietly without the media blitz... more people begun persuading me to contest. The voices began growing louder and I took it to be the voice of God that people had identified my talents having also served as the Anglican Church development services among other national engagements.
The Anglican Church allows gay clergy, what would be your stand on gays...
The bible states that marriage is for members of the opposite sex. That is the only way family legacies can be passed on and the country can be guaranteed that it would boast of future generations to build it.
Did you ever become a Maasai moran?
I had to pass through the rites and passage of the Maasai Community. During school holidays, I had to join the rest of my age mates in herding cattle in the forests. Many a times, I joined my colleagues in fighting off marauding lions which threatened to attack our cows. I went through all the hallmarks of being a Maasai moran such as undergoing circumcision. The only thing I didn't do was to plait and dye my hair due to school reasons.
Okay, a little bit about your background please...
I come from a polygamous family and was born in 1964 in Olokurto in Narok County. My father had 11 wives and my mother was his seventh wife. My father unfortunately passed away in 1969 when I was barely four years therefore. I don't remember very well how he looked like or childhood memories with him.
After dad's death, family wrangles over land rocked by my family and some of my elder step- brothers -some of whom have children older than me -kicked out of the family land my mother and a couple of younger wives who did not have grown up children to defend their rights to family property.
Though we lost our large track of land, my mother though had a few herds of cattle and relocated my four older sisters and I to settle with our uncles at a place called Naisuya near Narok town.
I got married to Easter Ole Sapit in 1987 and I am a father of seven children (one adopted).
How did your Christianity journey begin?
In 1985, a friend invited to be to a local Anglican church in Olendeme where a white missionary who also served as a nurse at the area dispensary was looking for an interpreter in a bid to allow her to effectively communicate with the local Maasai community. Being the only one who understood English, she recruited me and worked alongside her in interpreting health messages as well as read the Maasai version of the bible during her evangelical missions to the village. That is how I begun interacting with the word of God and embraced it...
What don't people know about you
Immediately, after high school I worked as a cattle trader. My associates and I would buy cattle in Narok and trek with them for sale at the famous Dagoretti cattle sale yard. I would plough the profit back to increasing my cattle numbers at home...
What makes you different from your predecessors?
We must appreciate that we are all unique and different perspectives. Nonetheless, the good thing about the Anglican Church is that it has a system, doctrines and constitution which govern it...
Politicians believe the clergy should stick to their evangelism...
The church wouldn't hesitate to intervene over matters of great concern to nation since during the 2007 post-election violence, it the church where besieged Kenyans ran and took refuge in from their tormentors... we were left to bear the huge burden of sheltering, feeding and clothing the tormented Kenyans and this must not be allowed to occur again
How did the Maasai community react to your elevation...
They flocked to Narok town to celebrate... there was a large party awaiting till late in the evening to welcome me at Ntulele trading centre and there was huge celebration in my local church. There was a large delegation of my community members who also escorted me to Kericho.